Description
How do I pitch my startup?
What will take it to the next level?
What makes a pitch stand out?

Whether you are entering the McGill Dobson Cup 2018 powered by National Bank, or simply want to know what an effective pitch looks like, this workshop will teach you how to pitch your idea in a compelling, succinct and powerful manner.

The event is free of charge and open to both students and the general public, however, capacity is limited. Please register for an Eventbrite ticket to secure your spot!
Featured Speaker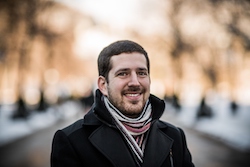 Omer Dor is a McGill alum (BEng'12) and former co-founder of MobiCare, a health-tech startup acquired in April 2013. Omer is also an alum of the Next 36 program in Toronto.
In this workshop, Omer will walk particpants through what it takes to make your pitch stand out from the crowd, sharing his story of how he built his own startup, from raising money from investors to navigating a successful acquisition.