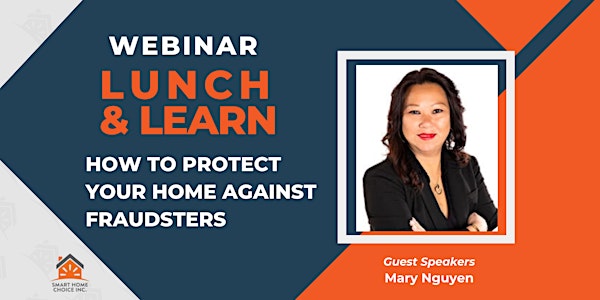 How to Protect Your Home Against Fraudsters
Mary will be discussing pressing questions regarding fraudsters selling peoples homes
Date and time
Thu, Apr 6, 2023 9:00 AM - 10:00 AM PDT
About this event
There's been an increase in fraudulent activities with fraudsters selling peoples homes without the home owners knowledge! Mary Nguyen will be discussing many pressing questions you have including:
How are the fraudsters getting the home owners ID's?
How do home owners protect themselves?
What does Title Insurance cover?
Has there been any new improvements for homeowners to protect themselves since all of the recent activities?
How long has Title Insurance been around?
Is Title Insurance mandatory?
How much does Title Insurance cost?
Do I have an option to select the type I want?
Are there differences between the different insurers?
How can real estate investors with multiple properties protect themselves?
Who gets title if the seller and buyer both have Title Insurance?
Mary will be discussing all this and much more, this could happen to anyone including you. Don't miss this one!
Bio:
Mary is the Regional Account Manager for Eastern Ontario and brings over 15 years experience in both the Conveyancing and Legal Industry as a Real Estate Law Clerk.
She began her career as Title Searcher and with the dawn of electronic registration, she transitioned to conduct real estate closing transactions for law firms. Her knowledge as a mortgage officer for The Toronto-Dominion bank assisted in her understanding the lending side. She continued her career to work for law firms in Mortgage Enforcement and subsequently freelancing whereby she conducted closings for sole practitioners. She has knowledge of the Conveyancer program and Teraview. She can assist law clerks and lawyers in using Conveyancer to its full capacity which will allow the firms to complete a file in a timely manner.
Mary's approach is to partner with a firm and help them be more efficient in closing transactions and increase the clientele of a firm. As well. Mary advocates for the legal practitioner and ensures Chicago Title Insurance is offering the coverage lawyers need and ask for, to ensure they understand and manage the risk inherent in residential real estate transactions. The business of conveyancing has changed in the last 30 years and Mary has the perspective to help law firms change with the environment and excel. Mary supports the legal professionals in the Durham, Markham and Stouffville regions.
About the organizer
Smart Home Choice is a full service Real Estate Investing firm and specializes in the Durham Region and surrounding GTA area. We are one of Durham Region's largest group of Real Estate investors and offer expert advice when it comes to Real Estate Investing.
Our mission is to educate investors to allow them to make informed decisions in their investing strategies. We accomplish this through various channels.