Description
$20 AT THE DOOR! PLEASE PRINT AND BRING YOUR TICKET!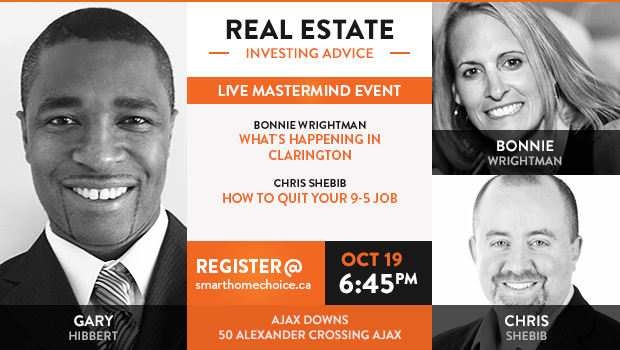 One of the BIG goals I had when I first started investing in Real Estate was, "when can I finally quit my full-time job?"
Now, not everyone feels like this, however, this may resonate with a few of you. I could not wait to get out of the rat race, morning rush, GO train travelling frenzy! On October 19th, Chris Shebib is going to share how he was also able to transition from 9-5 to full time entrepreneur through the power of investing in Real Estate and how you can as well!
One of the first places we decided to invest in was Courtice and Bowmanville back in 2009. No Lies! Many people frowned upon our decision to select this area as one of our primary investing hot spots.
A few years later, Clarington is on the map and Bonnie Wrightman, the manager of business development will be sharing why Clarington is one of the HOTTEST markets in the area and why YOU need to be planting roots in this region.
It's going to be a fun night, don't miss this event!
Bonnie Wrightman - Bio
Manager of Business Development
Clarington Board of Trade & Office of Economic Development
Bonnie is the Manager for Business Development for the Clarington Board of Trade & Office of Economic Development (CBOT). She joined CBOT in 2008, she has a passion for supporting the Clarington business community and raising the brand of CBOT as a resource for business. Her portfolio includes strengthening relationships within the local business community and real estate partners with a focus on initiatives to attract and retain investment. She also works with high schools to engage youth on opportunities and diversity in the Clarington business community.
Before joining CBOT, Bonnie was the Marketing & Communications Manager for Norseman Plastics (Orbis) Environmental Products division from 2001 to 2008. Bonnie holds a Bachelor of Arts (honours) degree from the University of Toronto and resides in Clarington with her two young boys - who also share her passion for their community!
Chris Shebib - Bio
Chris Shebib has been investing in real estate for over 20 years, in both Canada and the US:
My "why", is my family, (my wife and three beautiful daughters!). Providing a financial future, and being able to spend more time together is what motivates me.
I consider myself lucky to have built a broad base of experience over the years, all of which lends itself to real estate investing.
That breadth of experience comes from working for the last 20+ years starting as a licensed carpenter and subsequently in technology as a software engineer and eventually a product management executive. These careers were held in both California and Ontario.
While holding those careers, I was investing in real estate. I've invested in both Canada and the US (in the US while living there). I've also been the money partner for investments in Canada while living in the US.
RESERVE YOUR SEATS NOW!! $20 @ THE DOOR!

AGENDA
6:45pm - Doors open
6:45 - 7:10pm - Mix and Mingle
7:10 - 8:00pm – Chris Shebib
8:00 – 8:20pm – Mix and Mingle Break
8:20 – 9:00pm – Bonnie Wrightman
9:00 - 9:10pm - Closing remarks
9:10 - 10:00pm - Mix and Mingle