How to suceed in Business Analyst - Information Technology - Info- session...
Description
Business Analyst in Information Technology
Our Staff at MCIT team is working hard to deliver the best "Business Analyst"training in Quebec, and we invite you check out our open house on how to succeed as a Business Analyst in IT. We invite you to meet our subject matter experts and extract the best industry information that you might need to succeed in the market.

How to succeed as a Business Analyst in Information technology

Come and join us on April 28th 1: 00 PM for an information session about our new Business Analyst program.
This program is aimed at people with some business or IT background who wish to become Business Analysts, a critical role in any organization.Business Analysts are in charge of translating requirements from stakeholders to IT, teams as well as mapping and also improving and engineering business processes in the organization to ensure competitive advantages.
During this event, you will have an introduction to the field of business analysis, learn about the details of the program as well as our proven teaching methods. You will meet with the staff and teachers and you will find out more about our "Be Job Ready" program, a series of events and workshops aiming at increasing your chances to land the job you deserve in the field of Business Analysis.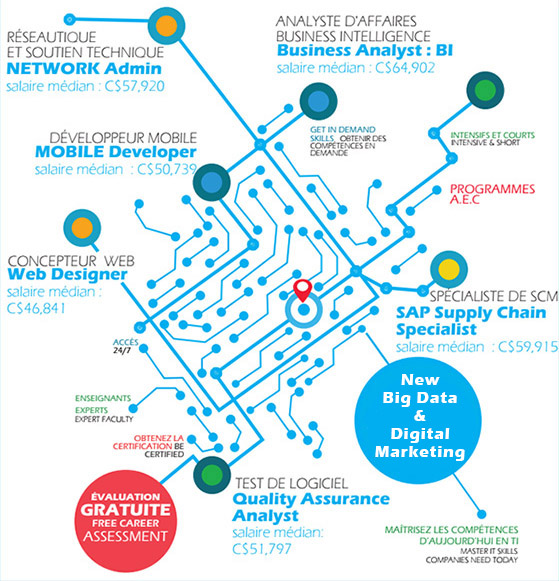 Event Program:
Greetings and networking

Introduction to Business Analysis

Program details

Jobs and opportunities

Prerequisites

Enrollment & Finance options

Question time

Career advice

Refreshments
FAQs
Is this the event for me?
Anyone looking to have a career in Business Analysis requires knowledge and skills from an extremely diverse set of fields. With this info-session, our intent is to show you what BA is about and give you all the information you need in order to pursue your career and training in Business Analytics.
How do I get there?
MCIT can be reached easily by public transportation:

By metro: stop at Metro McGill, exit from the Promenades Cathédrale, and cross Rue Sainte-Catherine;
By bus: Bus 61/168/420 on Boul. Robert-Bourassa; Bus 15 on Rue Sainte-Catherine;
How can I contact the organizer with any questions?
If you have any question you can contact the organizer anytime:
By phone: Monday to Friday from 8.30am to 4.30pm at (514) 312-2383;
By email: info@montrealcollege.ca
In person: you can request an appointment with a member of our team.
Student advising :Monday to Friday from 8.30am to 4.30pm
After work hours: 5pm -7 pm in person or on the phone by appointment.
Our address is 1255 Boulevard Robert-Bourassa, suite 502 (5th floor), Montreal, H3B 3V8.