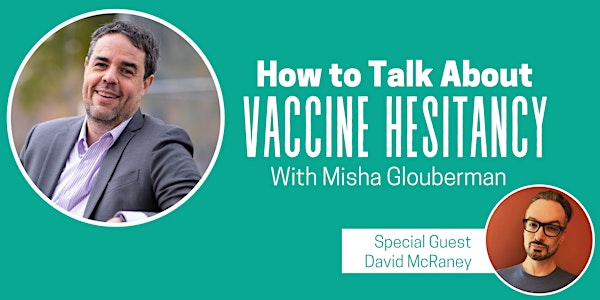 How to Talk About Vaccine Hesitancy
A Free Online Workshop With Misha Glouberman & special guest David McRaney
By How to Talk to People About Things
Date and time
Mon, Aug 30, 2021 4:00 PM - 5:30 PM PDT
About this event
A Note from Misha:
Are you struggling to have a conversation with someone close to you who is Covid-vaccine-hesitant? In every recent workshop I've taught there have been multiple people asking for help with difficult conversations around vaccine hesitancy.
There's a lot of great advice out there about how to talk about vaccine hesitancy. All the best practices require you to resist the inclination to force the other person to change, to listen more, and to push less. That can all be really hard when the stakes feel high in so many ways. This workshop will help you to bring more empathy and patience to these conversations, allow you to approach them more calmly, and reduce the chances of them going off the rails.
I'm bringing in my good friend David McRaney as a special guest to help inform the conversation. He is the author of "How Minds Change", the creator and host of the amazing "You Are Not So Smart" podcast, and generally a fantastic expert on how people form and change their opinions. I was recently on an episode about this topic. This workshop is a tie-in to that episode.
This is a participatory workshop, not just a one-way webinar. You will leave with concrete strategies you can use in your next conversation or help to give you the confidence to have the conversations that you're not having.
Here's what you need to know:
The event is 90 minutes long
It will take place on Zoom. If possible, log in on a computer, not a phone or tablet
Doors open at 6:50PM ET and the event will start promptly at 7:00PM ET
It will be a participatory event- there will be some exercises on your own to plan for your conversation, and some opportunities to talk with other participants. You are encouraged to show up with your camera on, ready to take part.
After the event, we'll invite people to a virtual meetup on gather.town, where you can chat with other attendees. Misha and David will be there, too.
Please share with anyone you know who might be interested!
The presentation is free, but you have to register in advance.
Hope to see you there!
- Misha
Misha Glouberman has been called a "mix of Peter Mansbridge's smarts and Conan O'Brien's wit" by The Toronto Globe and Mail, Misha's made it his life's work to help people communicate better in tough situations. His courses have helped dozens of organizations and hundreds of people get better at having difficult conversations in a fruitful way. Participants call it, "life-changing," "crucial," and "the best decision I made all year.".
Want to find out about future classes and projects from Misha? Sign up for the email list!
About the organizer
In his communication course "How to Talk to People About Things", Misha Glouberman helps individuals and organizations get better at reaching agreements, handling conflicts, and talking about tough issues.