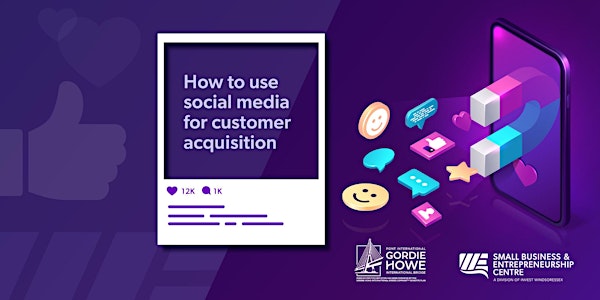 How to Use Social Media for Customer Acquisition
Understand how social media can be used to bring paying customers through your doors.
By Small Business & Entrepreneurship Centre
Date and time
Tue, Jan 24, 2023 8:30 AM - 10:30 AM EST
Location
Mackenzie Hall Cultural Centre 3277 Sandwich Street Windsor, ON N9C 1A9 Canada
About this event
Social media can be a great asset for any business, if implemented correctly. As a small business owner it's important for you to make better use of social media. On the flip side, you have a business to run and adding one more thing in a dizzyingly busy world can seem overwhelming.
This beginner-level session will provide some needed calm. We'll remove the jargon and leave you with a common sense understanding of how social media can be used as part of a practical plan to bring paying customers through your doors. Knowing how to leverage social media will help you grow your client base, increase profits and cut your marketing costs.
Key takeaways:
Social media equivalent of word of mouth advertising (organic growth)
How to appeal to new customers online (customer acquisition)
Find new customers just around the corner (local search)
Learn how the Digital Main Street program and Digital Transformation Grant can help you grow your business online
This in-person session is hosted for businesses located in west-Windsor and the Sandwich Towne BIA. Funding for the Sandwich Business Development Program has been provided by the Gordie Howe International Bridge Community Benefits Plan.
Presenters
Wayne Sankarlal - Digital Service Squad Advisor
Wayne has been building websites and running social media campaigns for more than 10 years, working exclusively with small businesses and non-profits. He is fascinated by the use of platforms like Facebook and Google to meet the challenges of searching for and welcoming new customers. Wayne knows the struggle many feel trying to understand and master social media advertising while juggling the other daily activities necessary to keep their businesses running.
If his Masters degrees in Business Administration and Computer Information Systems have taught him anything, its that technology is valuable only if it solves a real world business problem. And the biggest problem most small businesses have is finding new customers and serving repeat customers.
As a Digital Service Squad member for Windsor/Essex, Wayne is able to help businesses to do exactly that.
Lindsay Renaud - Digital Service Squad Advisor
Born and raised in the Windsor-Essex region, Lindsay Renaud is a Digital Service Squad Advisor for the Digital Main Street program. Her educational background includes an Advertising and Marketing Communications Management advanced diploma from St. Clair College, a Bachelor of Arts in Psychology from the University of Windsor, and a Bachelor of Education from the University of Windsor.
Lindsay has over 12 years experience in digital marketing, with a special focus on search engine marketing and optimization, social media marketing, Google Analytics, and website development. She has previously worked alongside large corporations such as Microsoft, Lowes, PetSmart, Costco, as well as various local small businesses to enhance their digital climate. In addition to marketing, she has taught various courses and workshops for digital marketing at post-secondary institutions, secondary schools and overseas. She also offers private consulting for clients. Lindsay is passionate about working with a diverse clientele to help them achieve big results!
About the organizer
The Small Business & Entrepreneurship Centre is a source for small business information, guidance and professional advice on starting and operating a small business. Whether you are just getting started or looking to expand your business, we are here to help your business succeed.