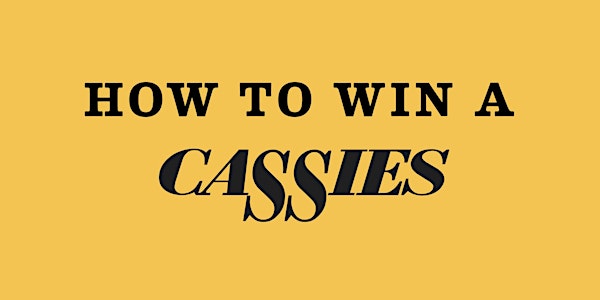 How To Win A CASSIES Webinar - REVISED
Refund Policy
Contact the organizer to request a refund.
Description
The CASSIES, Canada's ultimate advertising accolade, is changing for the better.
- The biggest set of changes since the CASSIES was introduced in 1993.
The CASSIES still rewards excellence in advertising effectiveness, but now more effectively.
- With new categories to enter, simpler eligibility rules, a clearer case study format and new judging criteria, each case you enter can now win more CASSIES awards. AND you have a month longer to prepare your case.
The CASSIES will still be difficult to win – on average, two-thirds of cases entered into the CASSIES don't win an award – but you can improve your chances by gleaning a thorough understanding of the changes.
Learn how to get your case into the CASSIES winning circle in this fully updated and revised 90-minute + Q+A interactive webinar run by CASSIES Editor and Judging Coordinator, John Bradley, on June 15th, 2016 at 1pm EST.
Learn how to answer the following:
Which Category should I enter?

There are now 22 individual award categories covering product/service sectors, types of communication briefs, communication challenges and specific areas of agency expertise. With no limit on the number you can enter, selecting the right set of categories to best showcase your achievements will be crucial.

Who is your audience?

The CASSIES judging process involves two distinct stages, with two different groups of judges, with two different roles, now working to a new set of judging criteria. You need to understand HOW your work will be judged to give it the best chance of success.

What is your communication strategy?

The CASSIES case study now has a completely revised structure. You need to understand how to leverage that structure for great story-telling.

What works?

While much of the CASSIES is changing, weak case-writing will always guarantee you come up empty.

Review and critique real examples from both CASSIES and IPA Gold-winning cases of great case writing that will always gain you marks.

What doesn't work?

Learn the common mistakes (big and small) that can torpedo your case.

Resource and Planning.

Learn what it takes to prepare a winning CASSIES case.

How do/could/should I…?

Use the Q&A to fill in any blanks.

Who Should Attend:
Heads of Account Management and Planning; heads of client research departments.
The deadline for entering the CASSIES is August 30, 2016.
ABOUT THE CASSIES:
CASSIES is the only Canadian advertising awards show that recognizes proven business effectiveness, backed up by rigorous published cases. As such, the CASSIES Awards are highly valued by both advertisers and agencies alike. Since its inception in 1993, the CASSIES have recognized the business achievements of over 500 campaigns from Canada's top advertisers and agencies. All award-winning case studies can be viewed in the Case Library section of the CASSIES website at www.cassies.ca.
The CASSIES is presented by:
The ICA (The Institute of Communication Agencies)

The A2C (

Association des Agences de Communication Créative

)

The APCM (Association des professionels de la communication et du marketing)
Tickets for this event are non-refundable but are transferable.