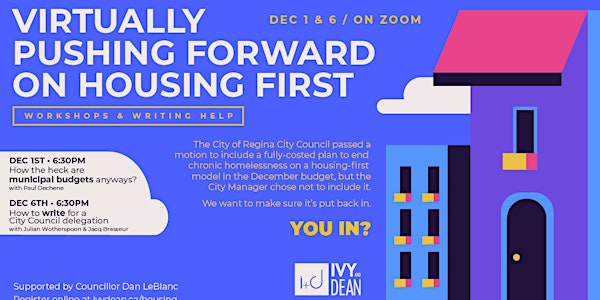 How to write for a City Council delegation
We care about everyone in our community, and that includes the unhoused. Let's push forward on housing first in Regina.
About this event
As part of a series of community engagement sessions on housing first and ending homelessness in Regina, Councillor Dan LeBlanc is inviting community members to join for a virtual version of some workshops we held on Sunday, November 27th in Regina.
Join Jacq Brasseur & Julian Wotherspoon to learn about how presenting to City Council in Regina works, things you can expect, and how to write a compelling and meaningful delegation.how the heck are municipal budgets anyways? We really don't get this whole budget thing, and Paul claims he doesn't either, but we're confident he at least knows more than we do.
By registering for this event, you consent to being contacted by Councillor LeBlanc and/or Ivy + Dean Consulting regarding homelessness in Regina.