About this Event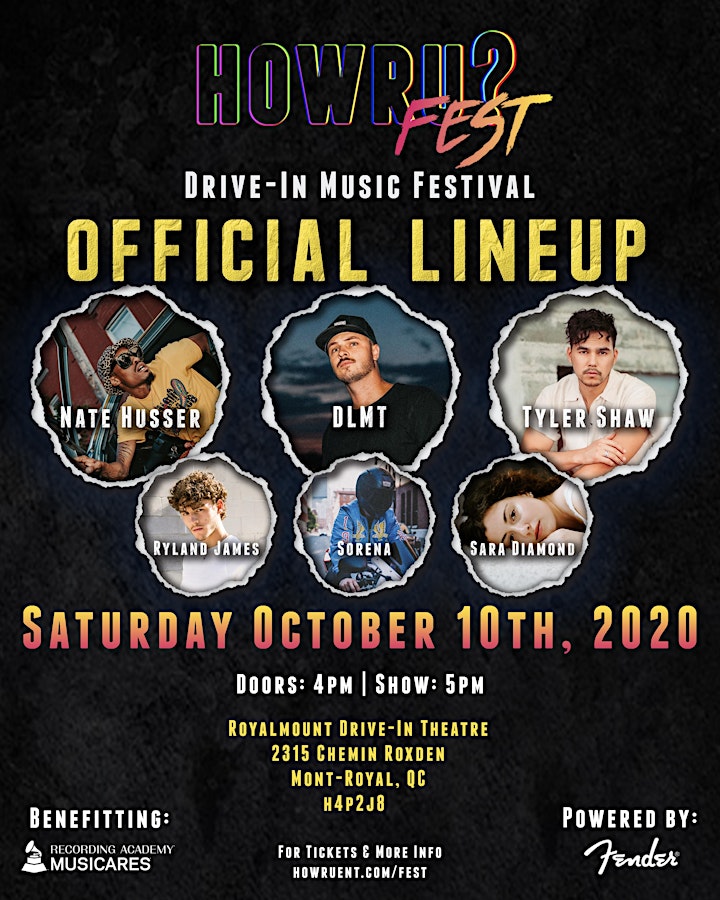 THE FIRST OFFICIAL DRIVE-IN MUSIC EXPERIENCE LIKE NO OTHER in Montreal in support of MusiCares brought to you by HowRU?
HowRU? Festival is an 8 hour drive in experience including 7 live performances... lineup to be announced in the coming days!
The fun doesn't stop there as we will be running:
✔ Raffle prizes
✔ Giveaways
✔ Free merch for all attendees
✔ and much more!
Event Information
Date: October 10th, 2020 Time: Doors open @ 4 pm / Show starts @ 5pm Location: Royalmount Drive-In Theatre Address: 8315 Chemin Royden, Mont-Royal, QC, H4P 2J8 All proceeds will be donated to MusiCares
---
How tickets work 🎫
The more people you bring the cheaper it gets!
General admission:
7-Person Car $46.02 (per person)
6-Person Car $53.70 (per person)
5-Person Car $64.43 (per person)
4-Person Car $80.69 (per person) [*Recommended*]
3-Person Car $107.1 (per person)
2-Person Car $160.15 (per person)
🍾🥂 For those of you who fancy a bit of luxury we have VIP tickets available which include:
✔ Preferred placement in the first 5 rows of the middle section
✔ Exclusive Merch Bag
✔ One free raffle entry per person
✔ One free drink & meal per person
2-Person Car VIP $266.23 (per person)
3-Person Car VIP $144.23 (per person)
4-Person Car VIP $133.63 (per person)
Can't make it to the show? We have you covered! Live streaming tickets are available at $11.62.
---
😷A COVID-Friendly Event:
✔ Each car will be directed to their designated parking space *Option to enjoy from inside or outside the vehicle 🚗
✔ Each space will include a 6'x6' area for you to safely exit your vehicle to enjoy the show outside 🚗
✔ FM Radio broadcasting directly to your vehicle 📻
✔ No line ups - order concessions directly from your smartphone and receive a text message when it is ready to be picked up 🍔🍷
✔ Bathroom attendant sanitizing stalls after each use to avoid contamination 🚽
✔ Masks provided to all festival attendees in their merch bags
-----
⭐Mission Statement ⭐
The mission of the event is twofold: to bring a unique and intimate musical experience to the city of Montreal, and to put money back into the hands of artists in a climate that is creating massive uncertainty in the future.
The vision is to unite the music community at large in order to spread a key message and bring music back to the world when it needs it the most.