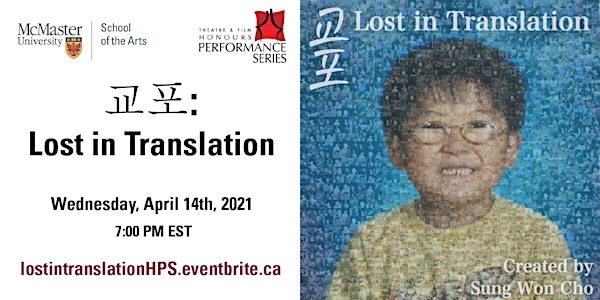 HPS 2021: Lost in Translation
The School of the Arts invites you to a virtual performance of 교포: Lost in Translation, as part of the 2021 Honours Performance Series!
By McMaster University School of the Arts
Date and time
Starts on Wednesday, April 14, 2021 · 4pm PDT
About this event
Registration for this event has now closed. Still interested in attending? Email humbo@mcmaster.ca for a link to the performance.
Interested in watching the other Honours Performance Series shows? Register here.
교포 (Gyopo, lit. "Koreans"): Lost in Translation is a work of digital theatre that investigates the fragments of identity that are scattered around us in our own homes. Exploring the memories of growing up as an immigrant in Canada, creator Sung Won (Bil) Cho shares his experience of being caught between two worlds.
Written and Performed by Sung Won Cho
This project would not have gotten off the ground without the creative support of the 4AO6 Class: Peter Cockett, Aaron Penciner, Rosalina Kim and Ankh Hu. With production support from Kelly Wolf and Patrick Brennan, and on-set assistance from Nathale Puella Abasto, the peculiar vision of this project would have never come to fruition. Of course, special thanks goes out to my family, whose support keeps me motivated to continue pursuing my passions.
About the Honours Performance Series
The Honours Performance Series is the product of THTRFLM 4A06: Theatre, Performance, and Society and features the work of the graduating class of the Theatre and Film Studies program. The class is the culmination of the program's training in devised theatre creation. Students collaborate to produce live, public performances that speak to their own social concerns.
In this year of the pandemic, the students have pivoted to digital performance. We have tried to maintain the spirit of live performance and resisted the inclination to simply make short films.
Their innovative responses to the challenges of distanced creation have been extremely impressive. Each student has developed their own form and style of digital performance that aligns with the theme of their show. They have all been a great pleasure to work with and have shown great resilience and creative courage in these difficult times.
I hope you enjoy their work as much I have enjoyed working with them.
-Peter Cockett