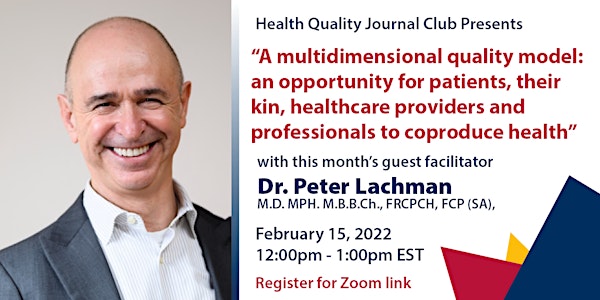 HQ Programs Journal Club w Dr. Peter Lachman
Health Quality Programs is excited to announce the next HQ Journal Club! Join us as we engage in a lively scholarly discussion.
About this event
Health Quality Programs is excited to announce the next HQ Journal Club! Join us as we engage in a lively scholarly discussion with Dr. Peter Lachman and his selected reading regarding Coproducing Health.
Register for the event to receive the zoom link and the download link for this month's selected reading.
February Journal Club Information
Information about the article: Lachman P, Batalden P and Vanhaecht K. A multidimensional quality model: an opportunity for patients, their kin, healthcare providers and professionals to coproduce health [version 3; peer review: 2 approved, 1 approved with reservations].
It is twenty years since the US Institute of Medicine (IOM) defined quality in healthcare, as comprising six domains: person-centredness, timeliness, efficiency, effectiveness, safety and equity. Since then, a new quality movement has emerged, with the development of numerous interventions aimed at improving quality, with a focus on accessibility, safety and effectiveness of care. Further gains in equity and timeliness have proven even more challenging.
About Dr. Lachman
Dr Peter Lachman:
Lead Faculty Quality Improvement RCPI
Peter Lachman M.D. MPH. M.B.B.Ch., FRCPCH, FCP (SA), FRCPI was Chief Executive Officer of the International Society for Quality in Healthcare (ISQua) from 1st May 2016 to 30th April 2021. Dr Lachman was a Health Foundation Quality Improvement Fellow at IHI in 2005-2006 and developed the quality improvement programme at Great Ormond Street Hospital where he was the Deputy Medical Director with the lead for Patient Safety. He was also a Consultant Paediatrician at the Royal Free Hospital in London specialising in the challenge of long term conditions for children. Dr Lachman has been the National Clinical Lead for SAFE, a Heath Foundation funded RCPCH programme which aims to improve situation awareness in clinical teams across England
Currently he is Lead Faculty Quality Improvement at the Royal College of Physicians of Ireland (RCPI) in Dublin, where he directs the Leadership and Quality programme to develop clinical leaders in quality improvement. He is co-founder and Chairperson of PIPSQC, the Paediatric International Patient Safety and Quality Community.
About the Health Quality Journal Club
The HQ Journal Club is an event that brings together academics, health professionals & the wider community to engage with topics related to health quality including risk, patient safety & quality improvement. Each meeting is led by a guest editor who has selected that month's journal article for review and discussion. This year in particular, journal club activities provide us with a virtual connection to our colleagues and to students and increase the exposure of those that attend to the Health Quality global network.