HR 201: Bill 17- Updating Company Policies to Match New Legislation Require...
Description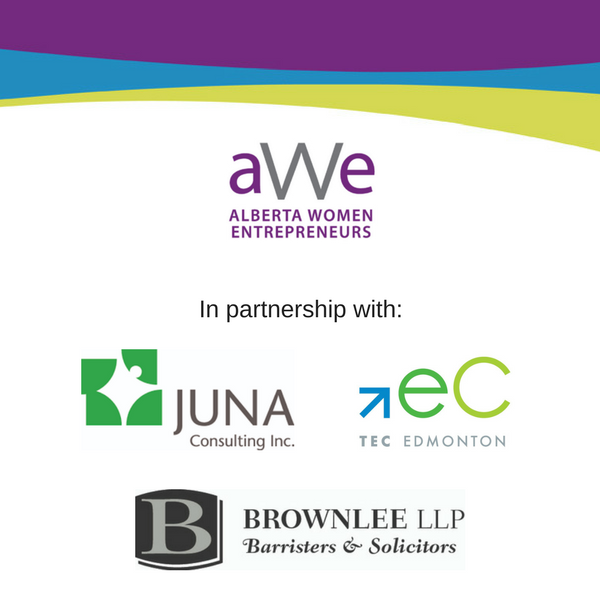 Alberta Women Entrepreneurs (AWE) has partnered with TEC Edmonton and Juna Consulting Inc. to bring a series of six essential Human Resource topics to small business owners as well as managers, supervisors or anyone who deals with HR capacity as a part of their organization.
Join us for breakfast and our first session in the 201 HR series focused on Bill 17- Updating Company Policies to Match New Legislation Requirements
Overview
Did You Know...as of January 1st, 2018 Alberta has new legislation!
Bill 17 is the Fair and Family-Friendly Workplaces Act, and it involves changes to the Alberta Employment Standards Code. HR professionals, managers and business owners need to know which company policies are affected and need updating to comply with legislation to minimize risk of fines, complaints, etc.
Learning Objectives
Upon completion of this session, participants will be able to:
List changes to existing employee rights/benefits

Incorporate new provisions (to comply with law)

Determine the impact of these changes on their workplace
Pricing & Location
Each session is priced at $39.00 per person, not including taxes or additional fees. Cost of workshop includes a delicious breakfast!
Location: Unit 301 10310 Jasper Avenue NW, Edmonton, AB
Time: 7:30 am to 9:00 am
About the Facilitators
Julianna Cantwell, CACE, CPHR
Julianna Cantwell is the President of JUNA Consulting Inc., a strategic human resources consulting practice that helps organizations improve individual and group performance. Specializing in learning & development for 20 years and communications for more than 10 years, Julianna logs over 100 days a year speaking and facilitating learning. Julianna is a graduate from the University of Alberta, NAIT, and MacEwan University and is a Chartered Professional in Human Resources (CPHR). She is a Past President of the Human Resources Management Association of Edmonton (HRMAE) and a former Director on the Board of Alberta Women Entrepreneurs, as well as Vice Chair of the Self-Regulation Policy Advisory Group for the Chartered Professionals in Human Resources – Alberta (CPHR-AB). Julianna also serves as a Director on the Board for Little Warriors.
Barb Read, CPHR, RPR
Barb Read is a Human Resources Consultant with JUNA Consulting and is a Chartered Professional in Human Resources and a Registered Professional Recruiter with a generalist background that spans all functional areas of the human resources practice. She brings expertise in business and operational process, recruitment and selection, new employee orientation, policy and procedure development, compensation, performance management, workplace investigations and employee relations. Barb has experience across private, public and not-for-profit sectors, and has a strong operations background to complement her HR expertise.
Barb is a certified member of the Chartered Professionals in Human Resources – Alberta (CPHR-AB) and a member of the Institute of Professional Management (IPM). She completed a two-year term as Committee Chair for the HRIA Edmonton Chapter and served as Co-Chair for the 2014-2015 year.