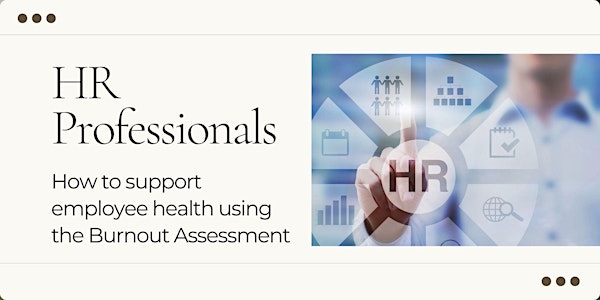 HR Professionals: Support employee health using the Burnout Assessment
HR Professionals: Learn a process for implementing the Burnout Assessment across your organization to support employee health & retention.
About this event
This workshop is designed for HR Professionals, including Directors, Managers and C-Suite leaders. Organizations across North America are using the Burnout Assessment to improve employee wellness and company culture.
You will learn a process for implementing the Burnout Assessment across your organization to support employee health for greater productivity and longevity.
Here is what you can expect:
Key challenges that have led to higher employee burnout rates throughout the pandemic.
The six factors that create burnout in the workplace.
How the Burnout Assessment supports a healthy organizational culture.
Why the Burnout Assessment is trusted and used across organizations, including corporate, nonprofits, healthcare, municipalities and universities.
How the Burnout Assessment works.
How to onboard the Burnout Assessment with your leadership team.
How to implement the Burnout Assessment throughout your organization.
Bonus Materials
Burnout Assessment PDF
Exclusive direct link to the Burnout Assessment for use across your organization
Accompanying participants' guide
Recording of the workshop
This workshop will be presented via Zoom. You will receive the Zoom link and Burnout Assessment link when you register.
Testimonials
Bonita brings a wealth of knowledge and compassion to guide leaders and teams toward wellness. Her workshops provide the right balance of learning and practical tools to support leaders and teams towards thriving in their careers.
- Tarra Wellings, Director of Operations
Bonita came into my life via a webinar that my employer hosted for our team and the greater community. It was at a time when I was facing my own version of burnout. Bonita provided me with some incredible tools and a customized process that was just right for me to help me build a new mindset and implement practices to protect me from burning out again in the future. Acknowledging burnout is hard work, but restructuring the way we approach our jobs... (and our entire lives) is even harder. Bonita understands this at a molecular level as she herself has come through her own burnout story. The self-discovery work with Bonita was validating and fun, to be honest :) I look forward to engaging Bonita again in a personal and professional partnership. If you're on the fence? REACH OUT to her.
- Gloria Field, Chief Operating Officer
The passion and dedication Bonita brings through her presentation are contagious. We were pleased to offer Bonita's expertise through a webinar. She is a fantastic presenter. It was clear that Bonita took the time to understand the audience she was presenting to. The engagement during this webinar was outstanding.
- Jodi Prouse, Chief Branding Officer
Most sincere appreciation for having you join us last month as our Keynote Speaker for OCA[Re]Connects 2022. It was everything I was hoping for and more. I really appreciate the wealth of knowledge and insight you shared with the diverse membership we represent and am grateful for new strategies to think about and explore. Thanks again!
-Joy Levy, Executive Director