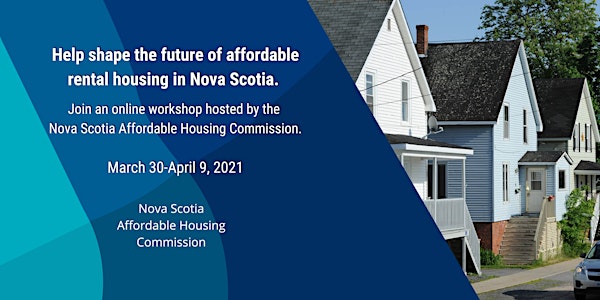 HRM, East Hants: NS Affordable Housing Commission online workshop
Nova Scotia is experiencing an affordable rental housing crisis. Let's talk about solutions.
About this event
To help find solutions to our affordable rental housing crisis, the Nova Scotia Affordable Housing Commission is hosting a series of online workshops. These workshops will explore the current state of affordable rental housing in Nova Scotia and work to identify meaningful, sustainable, and actionable strategies and opportunities.
Join one of the Commission's workshops to share your ideas and learn from others.
If possible, register for the workshop focused on your region, or if you can't make that session, we invite you to join another (all workshops will cover the same content).
What will happen at the online workshop?
The Commission will begin by sharing a brief overview of their work. The majority of the workshop will be interactive so participants can share their ideas via small group discussions, text chat and responding to polls. Each workshop in the series will cover the same content.
What will happen with my input?
Input from these workshops, focus groups, an online survey, and other submitted ideas will be used to help develop the Commission's recommendations. Their work will be presented to the Minister of Infrastructure and Housing by May 31, to build on the commitments made by the Province under the National Housing Strategy.
Who is listening?
The Commission is comprised of 17 members from across Nova Scotia who represent businesses, government, academia, and the non-profit sectors. The Commission is co-chaired by Eiryn Devereaux, deputy minister of the Department of Infrastructure and Housing, and Dr. Ren Thomas, Assistant Professor in the Department of Planning at Dalhousie University. Click here to learn more about the Commission members.
What do I need to participate?
All workshops will be held on Zoom. We strongly encourage you to connect by computer with a working camera and microphone. If you have unstable Internet, call-in options will be available.
Participants who require accommodations for a disability are requested to make a request as soon as possible through the registration form, or by contacting events@nsahc.ca or calling 1-833-743-0777.
Registration and Password
A password to access this Zoom meeting will be sent to all registrants via email in the days and hours preceding the event.
How else can I participate?
You are also encouraged to fill out the Commission's survey, share your ideas, map your community's housing needs, and share your housing story. In addition, the Commission will host focus groups to hear from interested and impacted groups.
Where do I learn more about the Commission?