HSD Community Speakers Series: Envisioning Shared Futures
Dr Heather Castledon, and Dr Jeff Corntassel will share some of stories about governing through the lens of planetary health.
About this event
Envisioning Shared Futures: Recollections and Regenerations for Governing Through the Lens of Planetary Health
The Anthropocene: human-induced climate and environmental change, is dramatically impacting all our relations, including the land, water, and air around us. The link between healthy lands, waters, more-than-human relations, and people has been known, embodied, and taught in Indigenous societies since time immemorial, yet these knowledge systems have long been delegitimized, ignored, and dismissed in the positivist natural sciences, where there is a race to solve/fix/manage/control environmental problems. If we want futures that support human and planetary life, we must respectfully work together, across political and epistemological boundaries towards reconciling the damage we have done to the planet's health and all our relations. This is easier said than done. In this talk, we will share some of our stories about governing through the lens of planetary health to envision shared futures.
In line with current PHO recommendations, and to ensure the safety of our community, masks will be required and we will be asking for proof of vaccination from all attendees.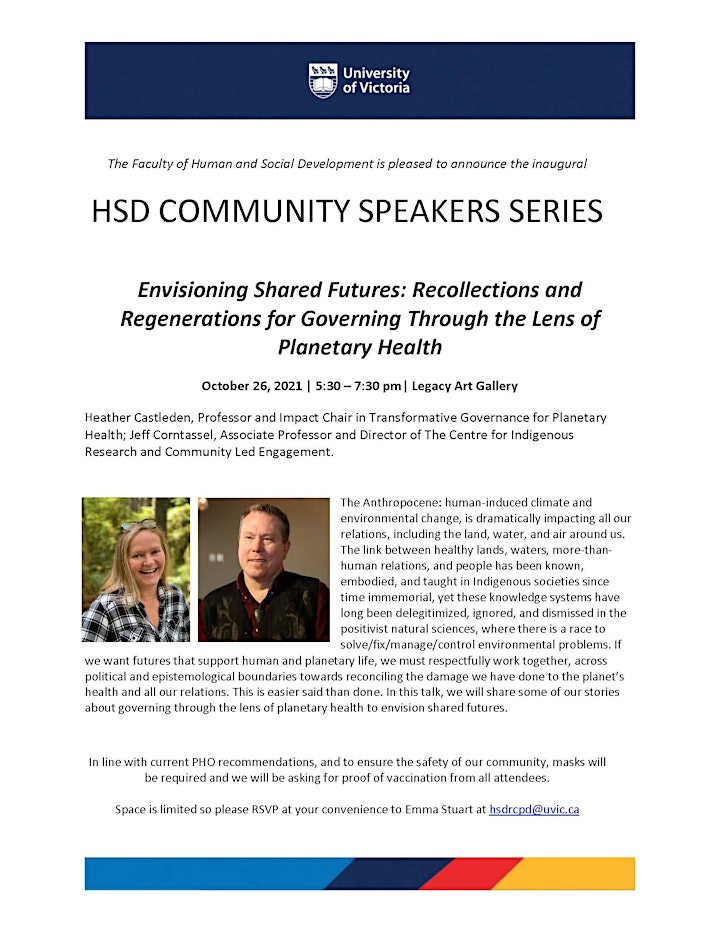 Organizer of HSD Community Speakers Series: Envisioning Shared Futures