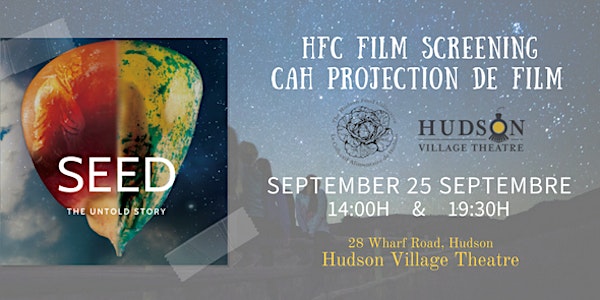 Multiple dates
Hudson Food Collective Film Screening- Seeds: The Untold Story
By Hudson Food Collective
Date and time
Mon, Sep 25, 2017 2:00 PM - 9:30 PM EDT
Location
Hudson Village Theatre 28 Rue Wharf Hudson, QC J0P 1H0 Canada
Description
Hudson Village Theatre (28 Wharf Road, Hudson, QC)
---
Monday, September 25th, 2017
Afternoon Screening 2:00pm - 4:00pm

Evening Screening 7:00pm - 9:00pm
Come and enjoy this visually stunning and important film in the comfort of this iconic Hudson location.
Both showings will be followed by a Q&A
with a special guest working on an exciting
USC Canada project called Captivating Seeds,
a demonstration garden in Senneville of 45 vegetable varieties
in partnership with 12 local seed growers.
Ask questions about what is happening locally around protecting seed diversity.

Doors will open 30 minutes before each screening
for a reception with information tables.

Buy tickets at Que de Bonnes Choses (451 rue Main)
or online by clicking the bottom at the top right.
We would like to thank Que de Bonnes Choses for sponsorship of this event.

Let us know you are interested or attending on our Facebook Event to get additional information and updates.

Please help us make this event a success by sharing the event or inviting your friends.
Word of mouth can go a long way too.
Help us spread the word and grow the awareness about the importance of protecting seed diversity.
Thank you :)
We invite you to watch the documentary film:
"Seeds: The Untold Story" (95 minutes), follows passionate seed keepers protecting our 12,000 year-old food legacy. In the last century, 94% of our seed varieties have disappeared. As biotech chemical companies control the majority of our seeds, farmers, scientists, lawyers, and indigenous seed keepers fight a David and Goliath battle to defend the future of our food. In a harrowing and heartening story, these heroes rekindle a lost connection to our most treasured resource and revive a culture connected to seeds. SEED features Vandana Shiva, Dr. Jane Goodall, Andrew Kimbrell, Winona LaDuke and Raj Patel.



---


Film Awards:



Winner of the ENVIRONMENTAL AWARD at Sheffield Doc/Fest, GREEN PLANET AWARD at Rhode Island Film Festival, BEST DOCUMENTARY at Nashville Film Festival, BEST IN FESTIVAL at Princeton Environmental Film Festival, ECOHERO AWARD at the Portland EcoFilm Festival, BEST DOCUMENTARY & AUDIENCE AWARD at Lunenberg Doc Fest, HONORABLE MENTION at Cine Eco Portugal, AUDIENCE AWARD at the American Conservation Film Festival, BEST CINEMATOGRAPHY at the United Nations Film Festival & Official Selection of the BEST OF FESTS program at IDFA in Amsterdam.
About the organizer
The Hudson Food Collective (HFC) is a non-profit organization in Hudson (Quebec).

​The HFC works to build knowledge, skills, and relationships around food that is ecological, healthful and fair.
The mission of the HFC is to foster a thriving community food system.
The HFC works toward the vision of regenerative and resilient food systems.