Event Information
Location
Sage Permaculture
320-1st ave. NW
Black Diamond, Alberta T0L 0H0
Canada
Description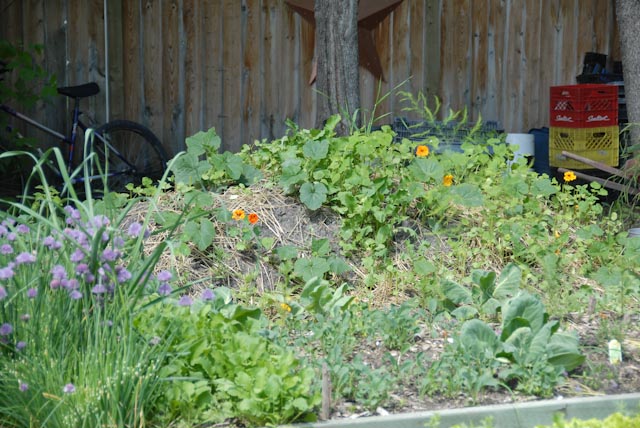 You know how in the spring you see bags and piles of organic material such as leaves and branches, stumps and yard debris piled up waiting to be sent to the landfill?

Some of these piles may be yours, because you are unsure what to do with them.
Imagine turning them into rich fertile planting beds that retain water and self compost while producing food for you and your family.

Used for centuries in Eastern Europe and Germany, hugelkultur (in German hugelkultur translates roughly as "mound culture") is a gardening and farming technique whereby woody branches, stumps, leaves and garden debris are used as a resource.
Hugelkultur allows gardeners and farmers to mimic the nutrient cycling found in a natural woodland. Hugelkultur, like woody matter readily becomes sponge like, soaking up rainfall and releasing it slowly into the surrounding soil, thus making this moisture available to nearby plants.
Hugelkultur garden beds
• Help retain moisture on site
• Build soil fertility
• Improve drainage
• Use woody debris that is unsuitable for other use

Applicable on a variety of sites, hugelkultur is particularly well suited for areas that present a challenge to gardeners. Urban lots with compacted soils, areas with poor drainage, limited moisture, etc., can be significantly improved using a hugelkultur technique, as hugelkultur beds are, essentially, large, layered compost piles covered with a growing medium into which a garden is planted.
(thanks to Melissa Miles for the great description)

Please join us May 18th for a hands on workshop and learn about this innovative gardening/composting technique.
In the workshop you will build a hugelkultur using resources available on site.
There will be special presentations on pruning and tree types suitable for hugelkultur from Arborist, Tawnie Bartish.
Mike Dorion of Living Soils will also give a presentation on worm castings, soil health and the use of compost teas on your hugelkultur beds.
Wood Fired Pizza lunch included.
Date and time
Location
Sage Permaculture
320-1st ave. NW
Black Diamond, Alberta T0L 0H0
Canada