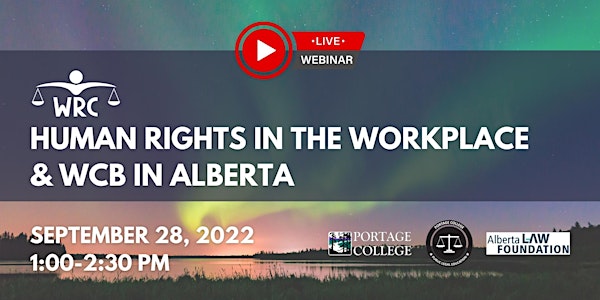 Human Rights in the Workplace & WCB in Alberta
Learn about the Alberta Human Rights Act as it relates to employment and how WCB works in Alberta.
About this event
The Alberta Human Rights Act (AHR Act) prohibits discrimination in employment based on the protected grounds of race, colour, ancestry, place of origin, religious beliefs, gender, gender identity, gender expression, age, physical disability, mental disability, marital status, family status, source of income, and sexual orientation. Employers are expected to create an inclusive workplace that respects the dignity of every individual. Employees can play an important role in creating an inclusive workplace by understanding their rights and responsibilities under the AHR Act.
Join us as Candace Martens from the Worker's Resource Centre provides information on your rights and responsibilities as an employee. We will cover some common questions people have such as:
What are human rights in the workplace?
What are my rights as an employee in Alberta?
What is a human rights violation in the workplace?
WCB is the administrator of the Workers' Compensation Act and makes claim benefit decisions based on assessment of claim facts and application of legislation and policy.
The WCB provides no-fault disability insurance for workplace injuries and illnesses to more than 160,000 employers and more than two million workers.
A work injury not only impacts you at work, it also impacts your life. Candace will guide us through what you can expect from your employer, health care community and the Workers' Compensation Board - Alberta. We will cover:
How much do you get paid on WCB-Alberta?
Who is eligible for WCB in Alberta?
How does WCB work in Alberta?
How long do you have to claim WCB in Alberta?
Can WCB cut you off?
Zoom log-in details will be emailed 1 day prior to session. Please check the email you register with or contact shelley.jackson@portagecollege.ca
Employment related sessions we are offering in September:
Alberta Employment Standards | Wed, Sep 14, 2022 1:00 PM
https://www.eventbrite.ca/e/alberta-employment-standards-tickets-411460087197
Employment Insurance (EI) Benefits and Entitlements | Wed, Sep 21, 2022 1:00 PM
https://www.eventbrite.ca/e/employment-insurance-ei-benefits-and-entitlements-tickets-411478672787
Human Rights in the Workplace & WCB in Alberta | Wed, Sep 28, 2022 1:00 PM
https://www.eventbrite.ca/e/human-rights-in-the-workplace-wcb-in-alberta-tickets-411427188797