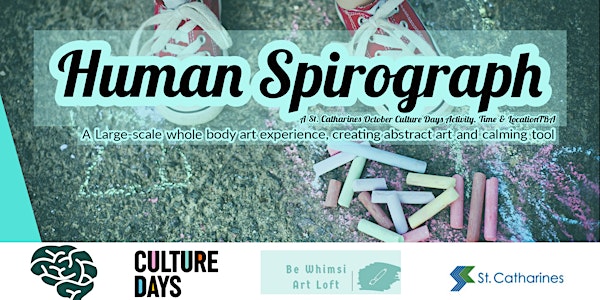 Human Spirograph-Largescale Bilateral Art Making
A Culture Days - Creative Bilateral Drawing Experience
When and where
Location
St. Catharines Kiwanis Aquatics Centre 425 Carlton Street St. Catharines, ON L2M 4W8 Canada
About this event
This large-scale chalkboard activity encourages participants to engage their whole body in fun and freeing sensorimotor art-making experience.
All Ages Are Welcome!
Try this style by using both hands using coloured oil pastels on paper first, then move to the larger scale chalkboard for the whole body experience.
The Activity:
Both hands move together at the same time to create a unique art piece using coloured chalk.
Then on our chalkboard, use the entire arm's length to engage your whole body to create intuitively and release some energy!
Please take a photo with/of your art before it's erased!
The Benefits of Participation:
🎨It's Fun and Freeing!
🎨 There are no mistakes in this judgment-free zone
🎨 It can be just as healing as a fun daily practice to relax your body and find mindfulness. Bilateral art making is often used in creative healing sessions to regulate emotions, calm emotionally charged physical reactions, or express complex traumas.
🎨 Adopt it as a new form of artistic expression and take yours to the next level by adding your creative twists.
SAT 7 OCT
Three sessions:
5:30 PM – 6:30 PM
6:30 PM - 7:30 PM
7:30 PM - 8:30 PM
Rsvp to secure a seat at artbyrhiannonbarry@gmail.com
905-964-0405
This event is free and sponsored by the City Of Catharines Cultural Investment Program.#art therapy #BeWhimsi #bilateralart #calmingart #emotionalregulation