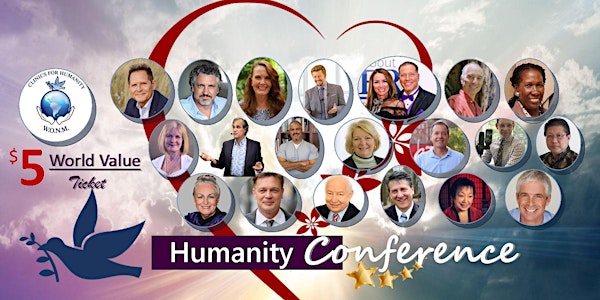 Humanity Conference 2020 - $5 for 5 Evenings World-Value Ticket
Clinics for Humanity proudly presents: the HUMANITY Annual Conference - 25 World Leaders / 5-INCREDIBLE NIGHTS! $5 World Value Ticket
Refund Policy
Refunds up to 7 days before event
Eventbrite's fee is nonrefundable.
About this event
Welcome to the Clinics for Humanity Annual World Conference - 25 World Leaders 5-INCREDIBLE NIGHTS! ☼ The Weekday-Evenings Portion of the Turning Point 2020 International Conference.
HUMANITY CONFERENCE 2020
Sponsored by the Clinics for Humanity & World Organization of Natural Medicine (W.O.N.M.) Learn more at WONM.org/Clinics
This is where you can purchase the $5. for 5 Nights WORLD VALUE TICKET.
25 World Leaders will be delivering incredible Keynote Speeches, Inspirational Talks, Educational Lectures and Motivational Workshops. We will be bringing together the 4 of the Universes of Human Achievement: Science & Research / Humanitarian Services / Personal Development / Health & Well-being.
For more information about the Clinics for Humanity please visit us at: www.wonm.org/clinics
Topics for the 5 evenings include:
Traditional Healing
Grass Roots Movements
The Incubators of Change
Health Freedoms
Global Information Access
Humanitarian Services
Research on the Horizon
Integrative Medicine
Nutrition for the World
And so much more...
SPEAKERS CONFIRMED INCLUDE:
Dame Dr. Sheila MacKenzie – RDH, PhD, IMD, DHS, Educator, Author, and Humanitarian. President of World Organization of Natural Medicine. Appointments: Dame Commander of the Sovereign Order of the Orthodox Knights Hospitallers. Professor and head of the Department of Natural Medicine and Humanitarian Medicine.
Ty & Charlene Bollinger are Christians, a happily married couple, health freedom advocates, cancer researchers, Ty is a former competitive bodybuilder, documentary film producer (Truth About Cancer), radio show host, and author.
Darrell Wolfe - PhD. DNM. DHS. has 40 years of experience in natural medicine as a medical intuitive and is known as the 'Doc of Detox'. He is a Doctor of Natural Medicine (DNM) and Doctor of Humanitarian Services (DHS), certified with the B.O.I.M.
Brian Clement Ph.D., L.N. / Anna Maria Clement – Starting in 1956, the year the Hippocrates Health Institute was founded by Ann Wigmore. We have operated on the belief that given the proper tools and environment, our bodies are self-healing and self-rejuvenating. That was a philosophy practiced by Hippocrates himself and passed down to us today from this father of modern medicine.
Del Matthew Bigtree is an American television and film producer, and CEO of the anti-vaccination group Informed Consent Action Network, who produced the film Vaxxed:
Sherri Tenpenny, DO, AOBEM(95-06), AOBNMM, ABIHM is an osteopathic medical doctor, board certified in 3 medical specialties. Widely regarded as the most knowledgeable and outspoken physician on the adverse impact that vaccines can have on health. She has been a guest on the Dr. Oz Show & the Today Show Australia). She has lectured on Integrative Medicine, breast thermography & women's health
Jeffrey Smith – Founder of the Institute for Responsible Technology—delivers transformational communication on a global scale. A bestselling author, award-winning filmmaker, and celebrated public speaker, his work exposing the dangers from GMOs has influenced the behavior and health of millions worldwide.
Dr. Rashid Buttar, FAAPM, FACAM, FAAIM - Medical Director, Center for Advanced Medicine and Clinical Research
Dame Prof. Dr. Sandra Rose Michael,DNM, PhD, DCSJ,Commissioner, ITNJ Biophysicist & Dr. of Naturopathic Medicine - her research in applied integrative biophysics has earned prestigious recognition, such as the Presidential and International Who's Who. She has lectured at the United Nations, MIT, the World Summit on Integral Medicine, the Harvard Club, The Royal Society of Medicine,
Foster Gamble - Many people have asked that I share a blog with my investigations, reflections and recommendations going forward. To that end I am initiating THRIVE PULSE which will periodically cover my take on critical current events in areas like Energy, Science, the Global Domination Agenda, ET phenomena and the transition to a truly free society, as well as updates on THRIVE !
James S. Turner, ESQ., The Citizens for Health Coalition mission is to bring the World together on common ground issues and to forge alliances to increase the our numbers to make a collective voice on an individuals' right to make personal health choices. Focusing on issues like pesticides, GMO's, toxic chemical usage & health reforms.
Mr. Scott Tips - A California-licensed attorney, he has specialized in food-and-drug law and trademark law, but also engages in business litigation, general business law, and nonprofit organizations, with an international clientele. Since 1989, Scott has been the General Counsel for the National Health Federation, the World's oldest health-freedom organization for consumers, as well as the Editor In Chief of its magazine, Health Freedom News. In 2007, he became NHF President, and has been a frequent speaker for the organization and for health freedom on several continents.
The FREEDOM of CHOICE SuperStar Panel: Lamont A. Daigle : Eagle Mountain Spirit / Chris Sky : Mothers Against Distancing / Amanda Forbes / Vladislav Sobolev : Hugs Nations & Hugs Over Masks
Andrew Wakefield, Health freedom advocate and famous British physician. Now speaks on the importance of the Freedom of information and various health issues of critical importance to citizens around the World.
Stanley Ngui-Hon-Sang – Ph.D., IMD. Chief Integrative Medicine Doctor, Grandmaster-level Chinese Medicine, Qigong and Gongfu
Deborah Drake, 40 years of Health Care skills & experience in Allopathic and Integrative Medicine, Sports, Biotechnology, Music and PEMF Biofeedback
Professor George Grant - Ph. D. is The Global Wellness Ambassador&Educator. Specialist in Stress, Biofeedback, Food Science&Nutrition Chemistry, Toxicology, Microbiology, Natural Pain Management - Biocranial Therapy and Thermotherapy.
Tedd Koren is the most widely read Doctor of Chiropractic in the world today. Since 1987, when he started Koren Publications, over 100 million pieces of his popular scientifically-referenced patient education materials have been distributed throughout the world.
Professor George Grant - Ph. D. is The Global Wellness Ambassador&Educator. Specialist in Stress, Biofeedback, Food Science&Nutrition Chemistry, Toxicology, Microbiology, Natural Pain Management - Biocranial Therapy and Thermotherapy.
Dr. Jay Paul Vanden Heuvel - PhD, IMD,DHS President of Natural Selections - naturalselections.net naturesinstitute.com
Brian Gangel, DHS, IMP, BOIM – W.O.I.M. Conference Chair. Health Expert, Educator, Diplomat Quantum Research Council, Order of excellence in Health Education, CEO Quantum Events CA, Master in Vastu Earth Science, Doctor of Humanitarian Services (HC), Integrative Medicine Practitioner.
Please NOTE: The following speakers will not be part a of the Humanitarian Conference, Monday to Friday evenings. T. Colin Campbell, Ralph Moss, John Assaraf, Joe Vitale, Martin Rutte, Raymond Aaron, Dietrich Klinghardt, Robert Lyons, Linda Forbes and others will be presenting on the full Turning Point 2020 Conference - the ALL ACCESS 9-DAY Ticket is also available on Eventbrite.com/Turning Point 2020 (this ticket is $97.50)
*Speakers schedule subject to change depending on the availability of the presenter.
MORE about the CLINICS FOR HUMANITY ™ - IT IS A COLLABORATIVE OF THE SOVEREIGN ORDER OF ST. PAUL AND THE ORTHODOX ORDER OF KNIGHTS HOSPITALLERS OF ST. JOHN.
Humanitarianism is the view that all human beings deserve respect and dignity, and therefore, humanitarians work towards advancing the well-being of humanity.
These fundamental principles serve two essential purposes. They embody humanitarian action's single-minded purpose of alleviating suffering, unconditionally, and without any ulterior motive. The most important principles of humanitarian action are humanity, which posits the conviction that all people have equal dignity by their membership in humanity, impartiality, which directs assistance without discrimination among recipients.
These fundamental principles serve two essential purposes. They embody humanitarian action's single-minded purpose of alleviating suffering, unconditionally, and without any ulterior motive. Humanitarianism is an informal ideology of practice, whereby people practice humane treatment and aid others; it is the doctrine that people must promote human welfare.
Humanitarianism drives people to save lives, alleviate suffering, and promote human dignity in the middle of human-made or natural disasters, uplifting people from poverty. Medicine to the poor world people, the human cost of conflict is immense, and the physical and psychological wounds they inflict on the population are enormous. The latter heal very slowly. Clinics for Humanity reinforce the need for a worldwide group geared towards traditional healthcare delivery and peace. This will awaken within societies the values attitudes and bond of common interest to transcend the differences arising from conflict and natural disaster.
Most governments are restricted in their efforts providing cost-effective primary healthcare to the poor. Most doctors are at a loss without expensive hospital technology, technicians, and manufactured drugs. Healthcare practitioners in developed countries lack knowledge concerning traditional, eclectic medicine that prevents them from using inexpensive, effective and reliable sources of healthcare delivery especially for the poor.
• The world is our clinical department • Medicine to the developing nations • Rewarding and challenging • Beyond emergency medicine to field medicine
Doctors and Practitioners of Humanitarian Services under the auspices of Clinics for Humanity™ have instituted, safe, and simple, standardized traditional medicine treatment protocols for treatments and management of addictions, behavioral health, self-care, education and disaster relief.
The following pictures are of the Clinics of Humanity in action: