About this Event
Brief History
Inspired by Humans of New York, Humans of ULeth (HOUL) was founded on October 22, 2018 by Richard Lee-Thai as a way to build community through sharing the stories of the people at the University of Lethbridge. To date, over 50 individuals have been featured on the Facebook and Instagram pages. Now ratified as a student club, HOUL plans to continue their core activity of interviewing people, but also hosting community-building events to have a more physical presence on campus. This Launch Event is our first try at this and we would love to see you there!
Event Details
*We are only selling 130 tickets in total - if you want a guaranteed spot, please purchase online rather than at the door.*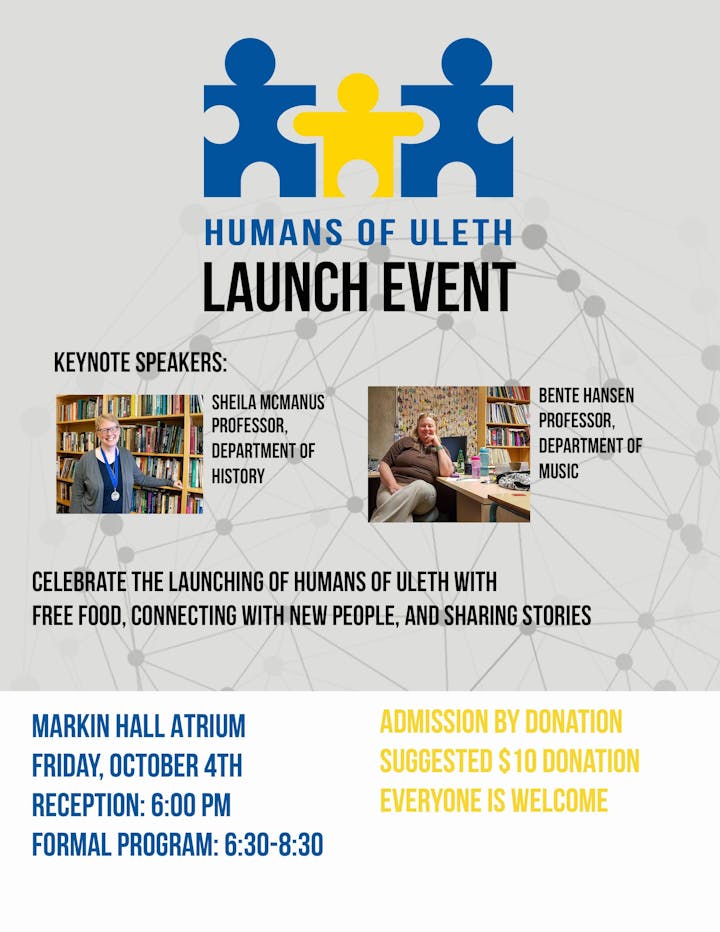 Territorial Acknowledgement
Oki, Humans of ULeth acknowledges and honours the traditional territories of the people of the Treaty 7 region in Southern Alberta, which includes the Siksikaitsitapi (comprising the Siksika, Piikani, and Kainai First Nations), the Tsuut'ina First Nation and the Ĩyãħé Nakoda First Nations. The City of Lethbridge is also part of the Métis Nation of Alberta, Region III. We would also like to note that Iniskim (Sacred Buffalo Stone) is the Blackfoot name of the University of Lethbridge. We recognize the diverse population of Aboriginal peoples who attend the University of Lethbridge and the contributions these Aboriginal peoples have made in shaping and strengthening the University community in the past, present, and in the future.
Adapted from: https://www.ucalgary.ca/indigenous/cultural-protocol and http://www.uleth.ca/sites/default/files/2019/08/final_territorial_statements_june_2019.pdf