Description
Autodesk AI Lab: Where artificial intelligence meets design and make...
Interested in learning about Autodesk research projects and explore career opportunities at our AI Lab? Join us on March 20 as AI experts from Autodesk, Vector Institute and ModiFace discuss the intersection of AI and how humans will design and make in the future.
Who should attend
Individuals in the field of AI research and machine learning, as well as professionals, academics, researchers and students in computer science and engineering.
__
More about the event
Whether we are talking about industrial design or architecture studios, engineering shops, factories or construction sites, the process of designing and making the physical world generates extremely rich data trails. Using modern AI technologies, we can learn from that data and build knowledge systems, topology generators, systems models, stylization networks, robotic control systems, vision technology and more.
All of these have the potential to make advanced design accessible to more people in the future and will allow companies and individuals to physically create like never before.
Dive deeper into topics such as:
Geometry synthesis

Design knowledge modeling

Simulated reality

Robotic assembly
Special guest speakers include:
Alex Levinshtein, Director of AI at ModiFace, a leading provider of of AR/ML powered innovative apps for the beauty industry. Alex will offer his expert insight on the application of different ML methods (regression trees, CNNs) for accurate real-time iris and hair color augmentation on mobile devices.
Geoff Roeder, Graduate Student Researcher at Vector Institute for Artificial Intelligence. Geoff will provide an overview of recent developments in probabilistic generative design, a class of machine learning methods that can be trained end-to-end, take advantage of both labeled and unlabeled examples, and automatically trade off between different design goals.
__
Agenda
5:45 pm – 6:30 pm: Registration and cocktails
6:30 pm – 8:00 pm: Speaker presentations and panel
8:00 pm: Q&A followed by networking
After the Q&A, attendees will be invited to stay and network over snacks and beverages.
__
About the Speakers

Mike Haley, Autodesk Research
Mike leads the Machine Intelligence group at Autodesk Research where they identify, evaluate, and develop disruptive technologies that improve the practice of imagining, designing, and creating a better world. His team combines research, development, and user experience in coupled iterative cycles to develop new products and foundational technology. For the last several years Mike's team has been focused on bringing geometric shape analysis and large scale machine learning techniques to 3D design information with the intent to make software a true partner in the design process. Read More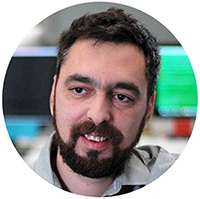 Alex Levinshtein, ModiFace
Alex is the Director of AI at ModiFace, a leading provider of augmented reality technology for the beauty industry. Previously he was a principal researcher at Epson, where he worked on a variety of topics including robotics, 3D reconstruction, and augmented reality. Alex obtained his BSc, MSc, and PhD in Computer Science from the University of Toronto in 2003, 2005, and 2010, respectively. His interests include tracking, pose estimation, segmentation, facial alignment, and 3D reconstruction. Read More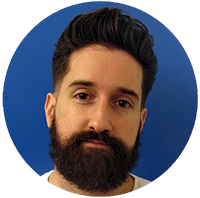 Geoffrey Roeder (@geoffroeder), Vector Institute
Geoffrey is a graduate student researcher at the Vector Institute for Artificial Intelligence, affiliated with the Machine Learning Group at the University of Toronto. His research areas include probabilistic generative models, which can automatically discover underlying patterns in data and use them to generate new structured content, such as images, text, and sound. His recent work has focused on how to generate designs that obey hard-to-specify constraints while still being realistic. Read More