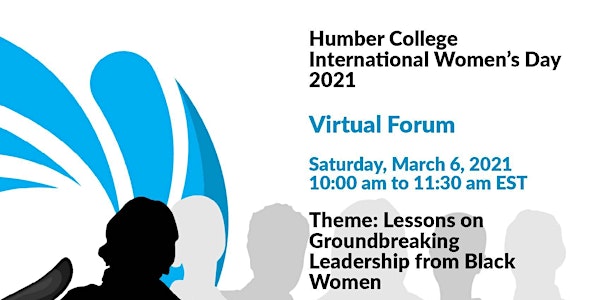 Humber College International Women's Day 2021 Virtual Forum
Humber College International Women's Day 2021 Virtual Forum
By The Centre for Human Rights, Equity & Diversity - Humber College
Date and time
Sat, Mar 6, 2021 7:00 AM - 8:30 AM PST
About this event
Theme: Lessons on Groundbreaking Leadership from Black Women
Event Host: Dr. Gina Antonacci PhD, Associate Vice-President Academic, Humber College
Dr. Gina Antonacci is the Associate Vice- President, Academic at Humber Institute of Technology and Advanced Learning in Toronto, Canada. Humber is a comprehensive post-secondary institution that offers a wide range of credentials to 32,000 full-time students across six faculty areas of focus. Gina provides academic leadership to the academic division, including Program, Planning, Development and Renewal, the Centre for Teaching and Learning and Applied Research and Innovation. She is a member of numerous professional associations, and continues to teach on a part-time basis at the University of Guelph-Humber. Gina has a bachelor's degree in Criminology from the University of Toronto, a Master of Science in Criminal Justice Administration from Niagara University and a PhD. in Higher Education from the University of Toronto.
Moderator: Sylvia Sweeney CM, Associate Dean, Film, Acting & Media Production, Faculty of Media and Creative Arts, Humber College
Sylvia is a highly accomplished media professional whose award-winning career spans more than thirty years and roles on air and off. Sylvia's extensive experience includes working as an investigative journalist and host for CTV's W5, as well as a director and producer of film, television and live event productions. As the founder and executive producer of Elitha Peterson Productions, she has directed and produced more than 100 live events and documentaries, including the Gemini Award-winning documentary In the Key of Oscar and the CBC's Anik Award-winning radio series About Oscar.
Speakers:
Keynote: Dr. Njoki Wane PhD
Njoki Wane, PhD, is a professor at the University of Toronto. She is currently serving as Chair in the Department of Social Justice Education at the Ontario Institute for Studies in Education (OISE). From 2011 to 2014, Professor Wane served as Special Advisor on Status of Women Issues, contributing to research and policy development concerning the intersectionality of gender with race, disability, sexual orientation and aboriginal status, and the impact of these issues on the lived experiences of women faculty, staff and students at the University of Toronto.
Senator Wanda Thomas Bernard PhD, Senator - Nova Scotia (East Preston)
In November 2016, Senator Wanda Thomas Bernard became the first African Nova Scotian woman to be appointed to the Senate of Canada. She proudly holds her position as an Independent senator in the Red Chamber representing the province of Nova Scotia and her hometown of East Preston while championing issues impacting African Canadians nationally in her work. Throughout her social work career, Senator Bernard has maintained a deep dedication to social justice and racial justice. Based on this work and perseverance she was awarded the Order of Canada in 2005, and the Order of Nova Scotia in 2014. After practicing frontline social work in Nova Scotia and founding the Association of Black Social Workers in 1979, Senator Bernard became a professor at the Dalhousie School of Social Work in 1990 where she subsequently held the position of Director for 10 years. During her time at Dalhousie, Senator Bernard developed a curriculum for the 'Africentric Social Work' course. In 2016, she was appointed Special Advisor on Diversity and Inclusiveness at Dalhousie University and is the first African Nova Scotian to hold a tenure track position. In 2017, Senator Bernard was the first African Canadian to be appointed Professor Emeritus in the School of Social Work (SSW) at Dalhousie University; the first woman within the SSW to achieve this appointment. She is former Chair of the Nova Scotia Advisory Council on the Status of Women, and a member of the National Coalition of Advisory Councils, addressing issues of gender equity, intersectionality and gender based violence. Senator Bernard maintains an active role in her community as interim Chair of the East Preston Empowerment Academy. She connects with young people across the country by visiting schools and participating in youth programs to create conversation about the importance of civic engagement, political voice, and social justice. Senator Bernard has continued to enact social justice and fight for racial justice in the Senate. During her time as chair, the Standing Senate Committee on Human Rights conducted a study on the human rights of federally sentenced persons. She continues to advocate for federal recognition of August 1 as Emancipation Day, the day that marks the abolition of slavery in the British Colonies. Senator Bernard advocates for this recognition as one of the many ways to pay reparations for the historic and continued anti-Black racism impacting the lives of African Canadians.
Celina Caesar-Chavannes MBA
Celina Caesar-Chavannes is a business consultant, coach and international speaker. She currently serves as the Sr. Advisor, EDI Initiatives and Adjunct Lecturer at Queen's University and her forthcoming book, "Can you hear me now?" published by Penguin Random House Canada, will be available on February 02, 2021. She was the former Member of Parliament for Whitby, Parliamentary Secretary to Prime Minister Justin Trudeau and Parliamentary Secretary for International Development. During her term as a Member of Parliament, Celina was awarded several distinctions including a feature in the April 2018 edition of O (Oprah Winfrey) Magazine entitled, "What would you stand up for and named Chatelaine Magazine's Woman of the Year (2019). She has a Bachelor of Science, an MBA in Healthcare Management and an Executive MBA from the Rotman School of Management. She can be followed on all social media platforms @iamcelinacc
Dr. Kathy Hogarth PhD
Dr. Kathy Hogarth is an Associate Professor in the School of Social Work, co-founder of the Black Faculty Collective and the Anti-Racism Advisor to the Faculty Association at the University of Waterloo. Much of her work is focused on race, racism and related social policy. She is an avid advocate for change related to race equity and anti-racism. She is a sought after national and international public speaker and trainer on equity and anti-racism. In her spare time she enjoys searching recipes and fantasizes that she will be a gourmet cook one day.
Humber College and University of Guelph-Humber Students
The first 100 current Humber and UGH students who register online will receive a copy of Celina Caesar-Chavannes' new book titled, Can You Hear Me Now? How I Found My Voice and Learned to Live with Passion and Purpose.
Accommodation Requests:
If you require accommodation to participate in this virtual event, please e-mail humanrights@humber.ca and we will work with you to make appropriate arrangements. Live captioning will be available to all participants during the session.