Description of the event: We are Humber College, Hospitality & Tourism Man. students & will be hosting Humber Path to Wellness online.
About this Event
Purpose:
To help those whose mental health is affected by the Covid-19 pandemic. Our goal is to bring together mental health professionals to give talks that are idea-focused and on a wide range of subjects as it relates to mental health wellness. Our desires are to foster learning, inspiration, and wonder while engaging in conversations that matter during these difficult times.
Highlights:
Guest Speaker #1: Myra Fahim
Guest Speaker #2: Andrew Jensen
Yoga & Meditation: with Kellie Elliot
... Just to keep in mind that we will have the Raffle Draw for the chance to win prizes!
Follow our Instagram account for more information and updates!! @humberspathtowellness
Thank you for your support! Donations can make a huge difference!
DONATE NOW Directly to CAMH Foundation: http://give.camh.ca/goto/humberspathtowellnes
We will look forward to seeing you on December 2nd, 2020!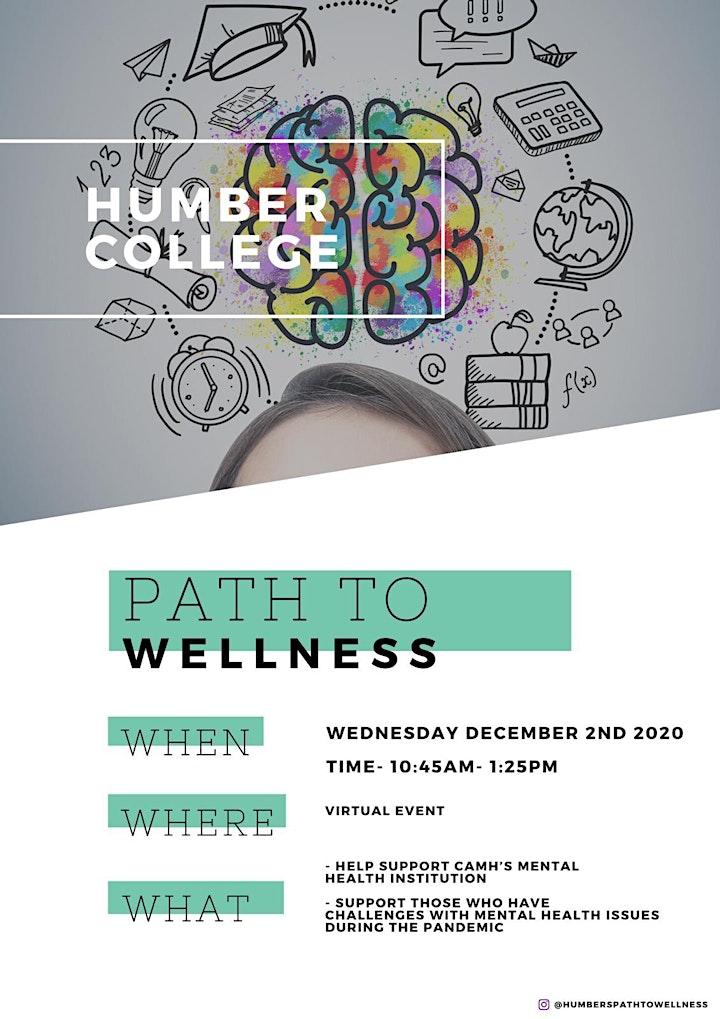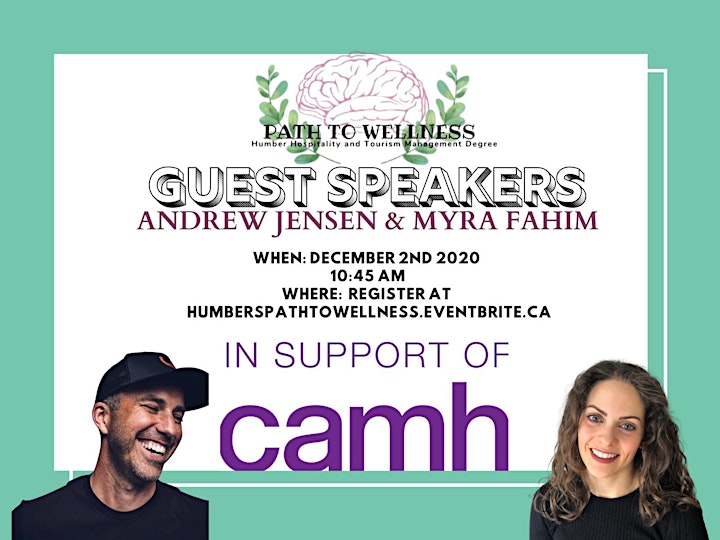 Meet Our Keynote Speakers:
Myra Fahim MSW, RSW, MSc, BEd
Myra Fahim holds an Honours BSc in Human Biology and Psychology from the University of Toronto and a Bachelor's of Education from Queens University. Additionally, she holds a Masters of Science in Psychology and a Masters of Social Work. She is registered with both the Ontario College of Teachers as well as the Ontario College of Social Workers and Social Service Workers. She possesses additional certifications in Smoking Cessation Interventions, Applied Suicide Intervention Skills Training (ASIST), and Adult Online Learning.
She currently manages an outpatient addictions program at the Centre for Addiction and Mental Health. She has a private clinical practice where she supports clients with a variety of challenges including depression, anxiety, addictions, self-esteem, and largely works with youth and young adults. Tying in her love of education, Myra is a crisis intervention training facilitator, training the general public on mental health crisis response through Home. Myra has a keen interest in incorporating a holistic approach to wellness, examining the intersections of emotional, mental, spiritual, and physical health.
Andrew Jensen, Professional Golfer & Mental Health Advocate
Andrew Jensen is a professional golfer and mental health Bell Let's Talk Ambassador. In his teens, Andrew began to suffer from depression, culminating in a suicide attempt at 16 years old. In those difficult teenage years, golf was his refuge, and the one place he felt meaning and purpose. It wasn't until having to deal with the immense stress and pressure of professional golf that the game became his undoing.
After struggling through an extremely difficult rookie campaign in 2008, being dropped by his sponsors in 2009, and finally, an injury in 2010, Andrew's poor play and off-course struggles re-opened the door for his depression and suicidal thoughts to enter his life. His 2011 season was his worst to date, forcing him to retire and give up on the game he loved for so many years. In the fall of 2011, two failed suicide attempts in a 3-week span had Andrew hospitalized. Most importantly, he was finally ready to get help and walk a road of recovery towards better health.
Returning to professional golf in 2013, Andrew gained status PGA Tour Canada. Though his starts were sparse, the Tour took it upon themselves to share Andrew's story of strength and courage on the PGA Tour Canada TV show and YouTube channel. The response Andrew received helped him fully realize his place as an advocate for mental health across Canada.
Andrew now finds himself at the forefront of the dialogue on mental health overall and as a 2017 Bell Let's Talk Ambassador, and the effort to eliminate the stigma surrounding mental health as a public speaker traveling the country and sharing his story with charities, schools, associations, and corporate Canada.
We are excited to have a special DJ onboard- DJ Lusaka!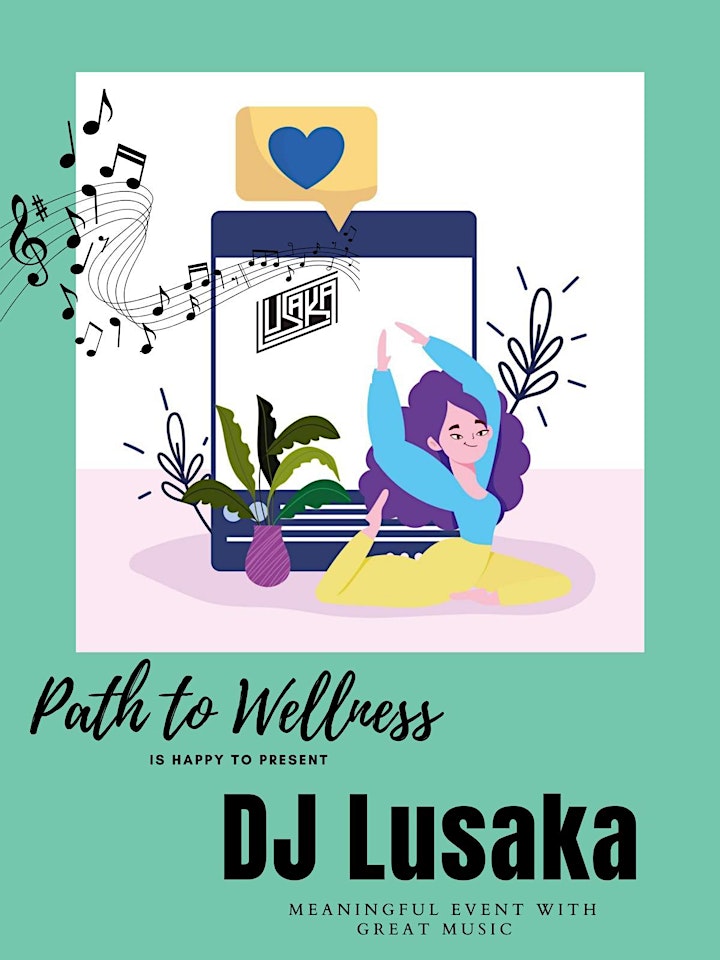 HUMBER'S PATH TO WELLNESS PROUD SPONSOR:
- CH STUDIO 213
-Gyubee Japanese Grill Restaurant
PRIZES TO WIN:
-2 $50 pre-paid visa gift cards from Anonymous Donor
- $125 gift code to Wonderkind Inc.
-A relaxed self-care package from C H Studio.
- .... and more!!
Follow our Instagram account for more information and updates!!
@humberspathtowellness