Humber Wellness Series aimed at promoting virtual safe spaces for conversations on aspects of health and wellness - Open to Community
About this event
Event Cancellation Message
On behalf of the Principal's Office at Lakeshore Campus, we regret to inform you that the Humber Wellness Talk on March 25, 2021, – Centring Health and Sustainability while Confronting Anti-Black Racism, with Larissa Crawford has been cancelled.
We were informed by Future Ancestors Services Inc. of Larissa's recent medical emergency last week. Unfortunately, because of this reason, she is unable to deliver the event keynote. We wish Larissa the best in her recovery process and sending positive energy as her team navigates this situation.
At this point in time, we cannot confirm a future event date as the situation with Larissa is still developing. We hope to reach out later in the year to see what is possible with holding the event in fall.
If you would like to know more about Future Ancestor Services Inc., feel free to stay updated with their organization at futureancestors.ca. We encourage you to stay updated with us on our social media @humberlakeshore on Twitter and Instagram.
The Humber Wellness Talk Series will resume in Fall 2021.
Thank you for understanding.
________________________________________________________________________________________________
The Principal's Office at Humber Lakeshore Campus, in partnership with the Human Resources and Organizational Effectiveness Team, is excited to continue the Humber Wellness Talk Series for Humber students, staff, and the general community.
For March 2021, we are excited to introduce Larissa Crawford, Founder and Managing Director of Future Ancestors Services Inc. The event is a partnership between the Principal's Office, Humber Office of Sustainability, Humber Indigenous Education and Engagement, and Humber Equity, Diversity, and Inclusion.
In this talk, Centring Health and Sustainability While Confronting Anti-Black Racism, Larissa will explore will address the intersection of climate justice and racial justice from the lens of ancestral accountability.
Attendees will leave knowing more about climate justice, racial justice, and how their actions can support or hinder this. The speaker will have conversations around anti-indigenous and anti-black racism, the impacts on people, suggest actionable items to support this, and clarity around the connection to the land from Indigenous and all Peoples context.
Topic: Centering Health and Sustainability While Confronting Anti-Black Racism
Date: March 25, 2021
Time: 12 pm - 1 pm
Microsoft Team - Session open to ALL - After registering, an event link will be sent.
Keynote Speaker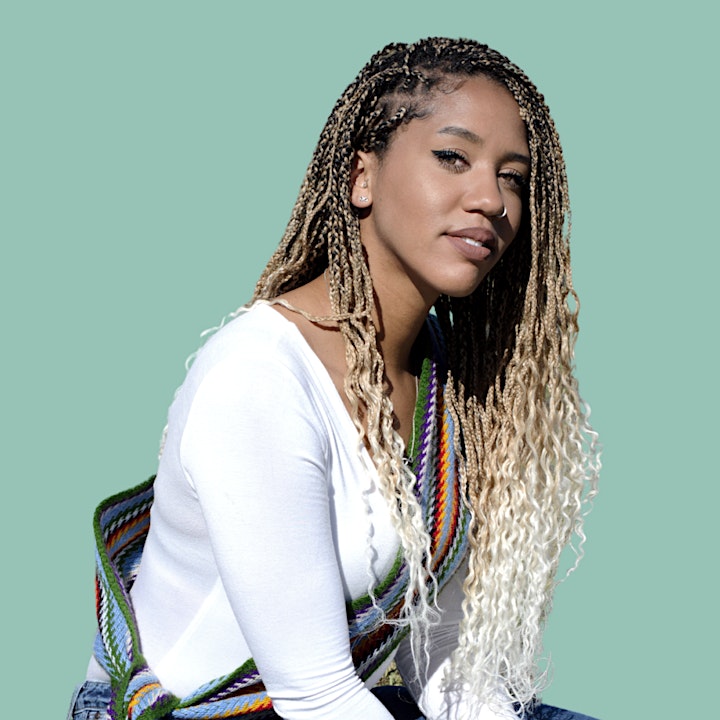 Larissa Crawford
Founder and Managing Director of Future Ancestors Services Inc.
Larissa is a restorative circle keeper, published Indigenous and anti-racism researcher, award-winning ribbon skirt artist, and proudly passes on Métis and Jamaican ancestry to her daughter, Zyra. She is the Founder of Future Ancestors Services, a youth-led professional services social enterprise that advances equity and climate justice through lenses of ancestral accountability and anti-racism.
Under Larissa's leadership and since their launch in April 2020, the organization has mobilized +$20K in donations for anti-racist and climate justice initiatives. Larissa and her team seek to increase their clients' capacity to honour people and Planet through their minds, work, and spaces, and do so while leveraging decolonized and Indigenized approaches to 'doing business.' Among their +140 diverse clients are small youth-led collectives and non-profits; Canada's most influential law firms and publishing houses; and the highest offices of Canadian government.
Larissa graduated from York University with a Bachelor of Arts in International Development and Communication Studies in June 2018, Summa Cum Laude, with 2-year-old Zyra on her hip. After experiences such as starting a library in Accra, Ghana, studying international law and volunteering in Istanbul, Turkey, and representing her university at several global United Nations events, Larissa redirected her efforts to home. She led several anti-racism and Indigenous research initiatives at the university, and shortly after brought this experience to Ontario's Ministry of Energy and Ontario's Anti-Racism Directorate as a policy advisor; the 2018 G7 as an expert advisor and youth delegate; and many of her related volunteer roles. Larissa's experience has led to her specializations in raced-based data collection, Indigenous and anti-racism research, accessibility, restorative circle keeping, restorative practice and conflict resolution, climate justice, and public policy.
Through programs such as the CohortX Climate Justice, the Action Canada, and the Youth Climate Lab FutureXChange fellowships, and now the FIreweed Fellowship, Larissa continues her learning of Northern Indigenous climate knowledge, climate policy, anti-racism opportunities in environmentalism, and doing business with traditional and decolonized approaches.
Session Structure
The session will begin at 12:05 pm with a few introductory remarks followed by a 30-40 minute presentation and Q&A.
Organizer of Humber Wellness Talks - Centering Health and Sustainability