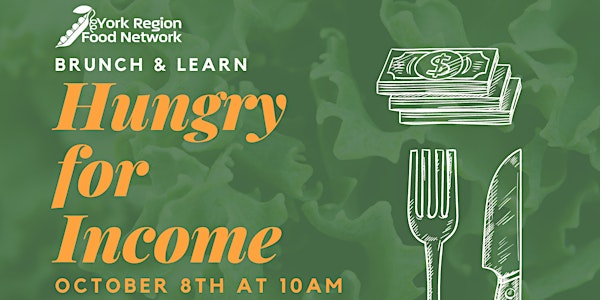 Hungry For Income - Brunch & Learn
Join us for a panel discussion and conversation about income security and food.
About this event
The COVID-19 pandemic has highlighted the inequities in our social assistance programs and food system. Prior to the pandemic, approximately one in eight Canadian households were struggling to put adequate nutritious food on the table. In the first two months of the pandemic, food insecurity rates increased by 39 per cent, effectively impacting one in seven people.
COVID-19 has triggered income shocks that are leaving people in financially precarious situations and at high risk of becoming food insecure or more severely food insecure. To protect Canadians throughout the remainder of this pandemic and to ensure a just recovery, we need to provide all people living in Canada with adequate incomes.
There are many approaches to income security including Basic Income, fair wages, improvements to our existing social assistance programs, and more. Join us for a panel discussion and conversation to learn about income security, considerations we need to make as we move towards a just recovery, and actions you can take to support income security.
Panellists*:
Tracy Woloshyn
Tracy Woloshyn is a registered dietitian. She works for York Region Public Health and is an active member of the Ontario Dietitians in Public Health Food Insecurity Workgroup. She is very concerned about the very negative health impacts of income-related food insecurity and values meetings such as this where people get together to solve urgent societal problems.
Jessa McLean
Jessa is a community organizer living in York Region. She has done work with Fight for $15 and Fairness, Amnesty International and other grassroots group, all with the aim of achieving social, economic and racial justice. During the last federal election, Jessa was the NDP candidate for York-Simcoe.
Pam Frache
Pam Frache is the Coordinator for the Fight for $15 and Fairness and an Organizer with the Workers' Action Centre. Pam has also served as the Research and Education Director for the Ontario Federation of Labour and before that, she was on staff with the Canadian Federation of Students as Ontario Campaigns and Government Relations Coordinator. Pam is a longstanding social justice activist based in Toronto.
Peter Clutterbuck
Peter Clutterbuck served as the Executive Director of the Social Planning Council of Metropolitan Toronto from 1991 to 1998 and as one of two Executive Co-Directors in the newly amalgamated Community Social Planning Council of Toronto (CSPC-T) from 1998 to 1999. After leaving the CSPC-T (now Social Planning Toronto), he combined a community research role for the Social Planning Network of Ontario (SPNO) with independent consulting and research as PC Human Resources. While with the SPNO, Peter led a cross-community mobilization in 2007-2009 to advocate for an Ontario Poverty Reduction Policy, which included initiating the Put Food in the Budget campaign.
Chloe Halpenny
Based in Ottawa, Chloe Halpenny (she/her) is a proud feminist and social justice advocate passionate about a more equitable world, and believes basic income is part of the solution in getting us there. She came to basic income through her Master's research interviewing participants in the Ontario Basic Income Pilot, and has never looked back. Chloe is a founding member and co-chair of the Basic Income Canada Youth Network, aiming to engage young people in Canada's basic income movement.
Outside of the basic income world, Chloe works as a social policy researcher at the Social Research and Evaluation Corporation. An active community member, she is the Co-Chair of Women's March Ottawa, sits on the Board of Elizabeth Fry Ottawa, is a member of Senator McPhedran's Youth Advisory Council, and volunteers with Youth Ottawa, Dress for Success Ottawa, and as an undergraduate student mentor.
Chloe holds an MPhil in Multi-disciplinary Gender Studies (University of Cambridge), an MSc in Social Policy & Development (London School of Economics), and a Bachelor of Public Affairs & Policy Management (Carleton University).
. . .
*More details TBA!
Stay connected and follow us on social media on platforms like twitter (@YRFoodNetwork) and Instagram (@yorkregionfoodnetwork ).