Hustler Sophisticate Speaker Series Featuring Ryan Serhant TV Star of Milli...
Description
DO YOU HAVE WHAT IT TAKES TO BE A HUSTLER SOPHISTICATE?
---


Join us for this life-changing event and learn how to hustle for success from the best in the business. Come and learn as Ryan Serhant shares the secrets to his business, his hustle, and his success. Don't miss out - Get your tickets today.
In 2008, the subprime mortgage industry collapsed, Lehman Brothers filed for bankruptcy, and a 24-year-old Ryan Serhant began his first day in the real estate business. Now, Serhant is recognized as a real estate powerhouse. His team at Nest Seekers International sold over $830 million in real estate in 2017 and was ranked the #1 sales team in NYC and the #2 sales team Nationwide, by Wall Street Journal Real Trends for 2017.
Now, THAT'S what we call a Hustler Sophisticate!
Whether you're in sales, acting, modeling, a writer or simply a human being, this speaker series is for you.
Along with Ryan Serhant providing our keynote, there will also be a LIVE Q&A with Ryan and other high-level business leaders. There is also a chance to meet Ryan! That's right! You'll get a photo with Ryan at the cocktail reception and if you're one of the lucky ones to get a VIP Dinner ticket - you'll also get a video with him.
We will have other business leaders sharing their success, how they get their hustle on and will also take part in a business panel with Ryan.
Lunch will be included.
Cocktail Reception guests will get a photo with Ryan Serhant on the media wall.
3:30 PM - 5:30 PM: Cocktail Reception / 5:45 PM - 8:00 PM: VIP Dinner (Secret Location, shhh!)
VIP Ticket Holders for the intimate dinner with Ryan Serhant will be informed of the secret location on the day of the event. Shhhh, it's a secret for VIP Ticket holders only.

---
Presented by Stonehaus Realty and Jill Sinclair.
Producer and Host Jill Sinclair, Author, Public Speaker, and Business Coach.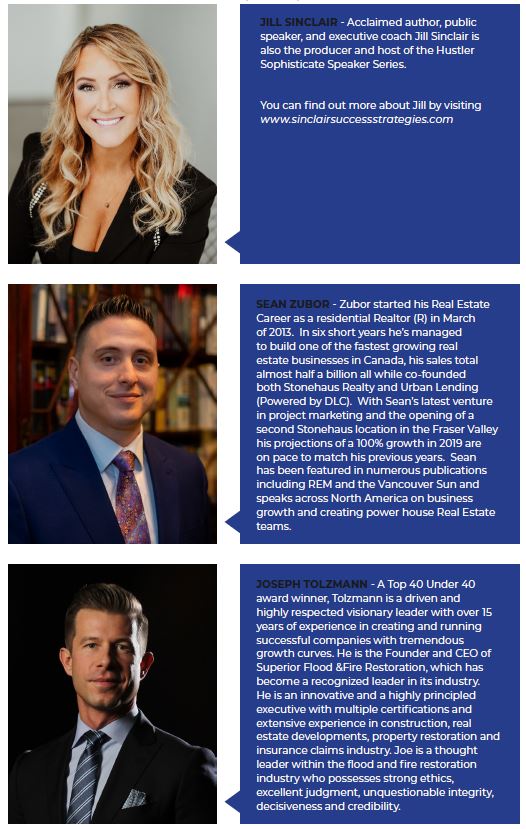 BMF Homes, Dilawri Automotive Group, Audi Downtown Vancouver, Bentley Vancouver, Aston Martin Vancouver, Jireh Stone, Surmesur, SwitzerCult Creative, Symba Marketing, MODISclub, Central City Brewers & Distillers, Lohin McKinnon Whisky, Queensborough Gin, and Red Racer