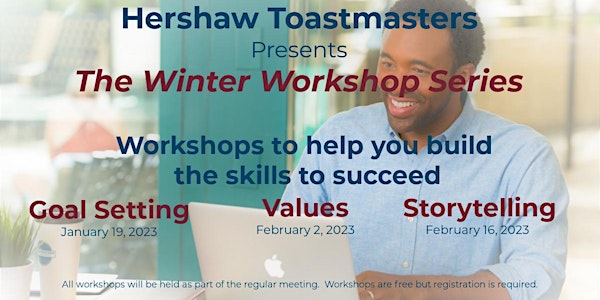 Hybrid Communication Workshop Series - in person or via Zoom
Interested in improving your communication and leadership skills? Then these free workshops are for you. Come out and learn with us!
When and where
Location
Emmanuel United Church 420 Balmoral Drive Brampton, ON L6T 1V9 Canada
About this event
Communication and leadership skills are some of the most important skills we need to succeed in all areas of our lives. Do you struggle to define your goals and bring them to fruition? Do you sometimes feel your decisions don't represent what's most important to you? Do you find it challenging to connect with people? Then these workshops can help.
The workshops will be hybrid so you can attend in person or online. All attendees must be 18 years of age or older.
These three workshops are being presented by members of Hershaw Toastmasters - a club that focuses its efforts on helping our members become better communicators and leaders. Registration is required but attendance is free. All workshops will be presented as part of the regular club meeting.
January 19. 2023 - Goal Setting
Antoine de Saint-Exupery said, "a goal without a plan is just a wish." In this workshop, you'll learn, not just how to set a goal with intent, but also the skills to follow through, create a plan and make that goal a reality.
February 2, 2023 - Values
Values are a basic set of beliefs and ideas held by an individual, a group or a society. Can you define yours? Which ones are most important and why? Do they align with how you make decisions in your life? In this workshop, we'll explore values and guide you through the process of answering those questions.
February 16, 2023 - Storytelling
Have you ever heard someone else's story and felt emotion rising in you? If you did, then they made a connection with you. It's through storytelling that we connect with others. In this workshop, you'll learn how to tell your stories in a way that will help you build those connections with others.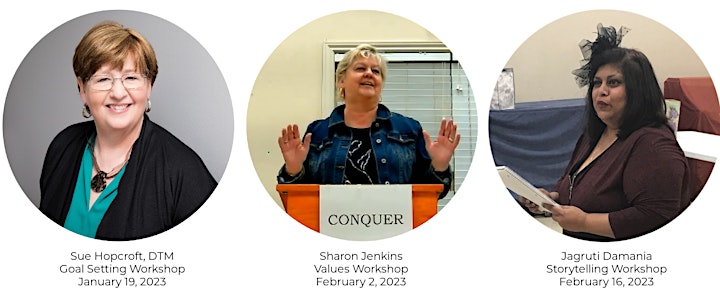 The Goal Setting Workshop is being presented by Sue Hopcroft, DTM. Sue joined Hershaw Toastmasters in 2015 and has been a member of the leadership team for most of the years since. She was awarded D86 Publicist of the year in 2020-2021. Sue has competed in contests and credits them with taking her speaking to the next level.
The Values Workshop is being presented by Sharon Jenkins. Sharon joined Toastmasters in 1986 and remains active within the organization. She has been part of the leadership team for most of her Toastmaster journey. She has entered many contests, won many, received the Club Toastmaster of the Year award three times, awarded the District Area Director for 2021-2022 and is currently a Division Director and VP Membership for Hershaw. Toastmasters has helped Sharon listen better, learn to share her ideas so all can understand. Sharon enjoys the mentorship process which helps fellow Toastmasters achieve success in their lives. She says, "you never stop learning as a member of Toastmasters."
The Storytelling Workshop is being presented by Jagruti Damania. Jagruti joined the club two years ago after completing a 6-week Speechcraft Workshop. She has become involved in leadership activities both as District Speechcraft Chair and as the club's President.