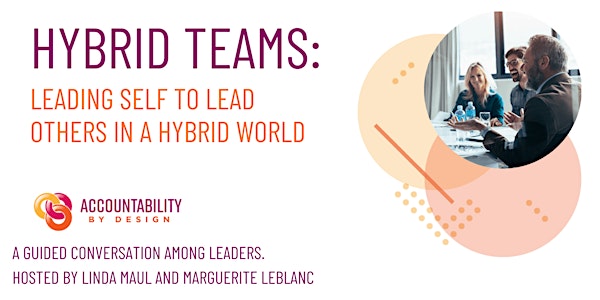 Hybrid Teams: Leading Self to Lead Others in a Hybrid World
Leading Self to Lead Others is focused on learning about oneself, knowing our relationship with others supports growth and is foundational t
About this event
Join Marguerite LeBlanc and Linda Maul online for this free interactive Collaborative Conversation on September 22nd. In conversation with your peers, discuss:
How to manage your own energy to lead self & others.
Ensure you and your team are aligned to your values and shared purpose.
Understand the connection between leading self and others to productivity.
Strategies to successfully hold yourself and others accountable to leading self.
Register here to join us, and your peers, live online September 22, 2022 from 9:00 - 10:00.
Feedback from our last session included:
"I came today because I've done the Accountability by Design program. I wanted a refresher and I wanted to connect with other leaders interested in using accountability constructively. I'm part of a team of 3 having taken up the challenge of keeping this system alive in our organization. We use the clarity and conversation system we learned with Marguerite and Linda. It works."