I AM. CALLED. MissionFest Toronto West Regional Conference - October 19 & 2...
Description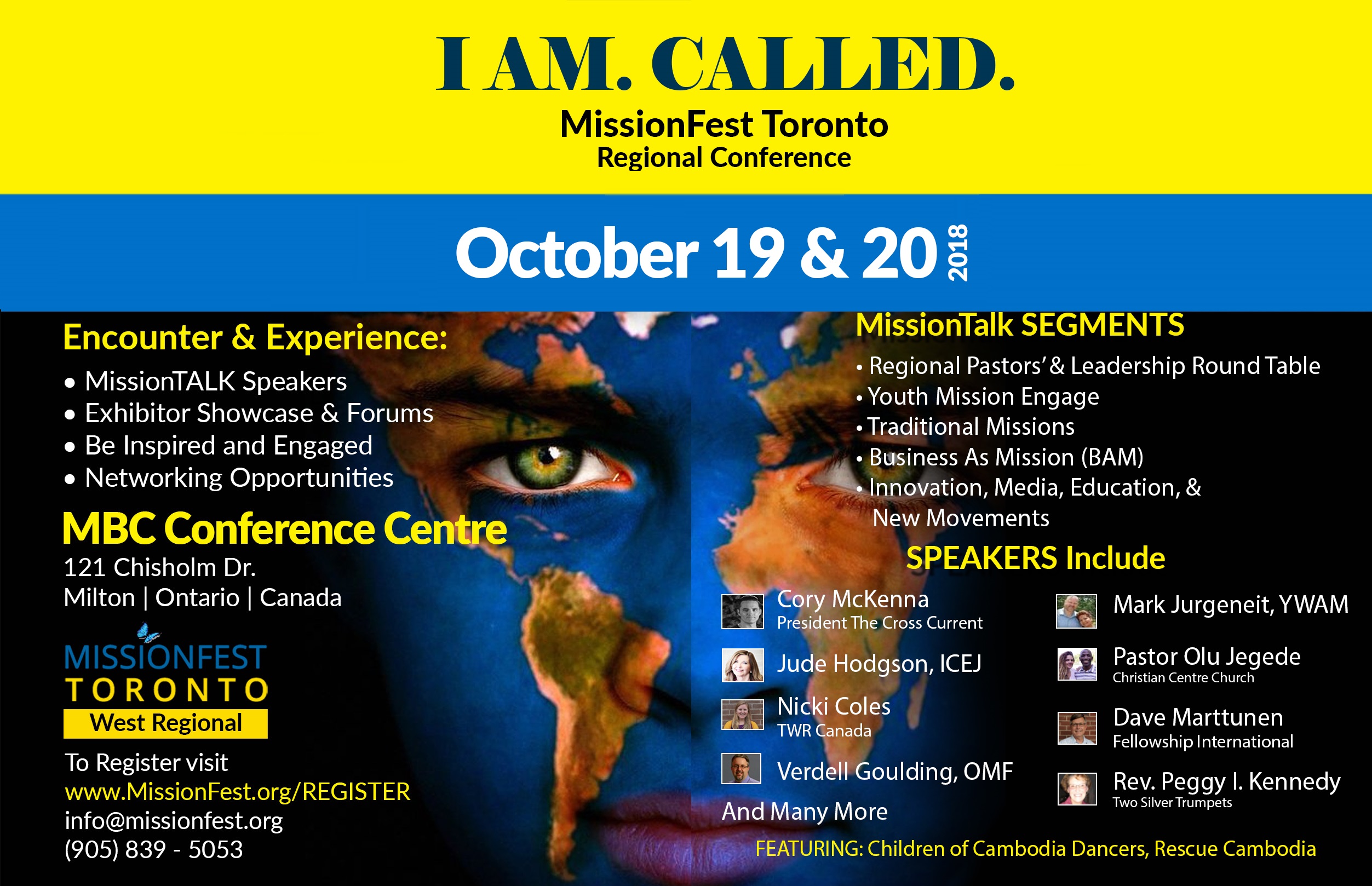 MissionFest has moved from a centralized model to implementing a distributive model for the city of Toronto and beyond.
Therefore we will be having regional events that will rotate around the city in the same format to re-engage and mobilize the church community in missions while collaborating with our partners in a greater way for the Great Commission.
Our upcoming Toronto West Regional Conference, October 19 & 20, 2018 is themed I AM. CALLED. (meaning ... I AM (that I AM) has called us and we are all personally called (based on Isaiah 6:8 and Matt 28:18-20)
PROGRAM & SCHEDULE
FRIDAY | OCTOBER 19, 2018
Regional Conference Opens
1:00pm | Registration Check-in | Main Entrance
1:00pm - 10:00pm | Exhibit Showcase & Forum OPENS | ATRIUM & RIALTO HALL
1:30pm - 4:00pm | West Regional Pastors & Leaders' ROUND TABLE (by invitation) | I AM. CALLED. We Are Commissioned. | TIVOLI ROOM
6:00pm | SHOWCASE HALL SPEAKERS FORUM | CrossRoads Communications | RIALTO ROOM
7:00pm | SHOWCASE HALL SPEAKERS FORUM | International Christian Embassy Jerusalem (ICEJ) Canada| RIALTO ROOM
8:00pm | SHOWCASE HALL SPEAKERS FORUM | ELIC (English Language Institute/China)| RIALTO ROOM
9:00pm | SHOWCASE HALL SPEAKERS FORUM | Wycliffe Bible Translation| RIALTO ROOM
7:30pm - 10:00pm | YOUTH MISSION eNGAGE | Encouraged For Mission. Equipped For Mission. Engaged For Mission. | TIVOLI ROOM
Youth Worship Service
ENCOURAGED For Mission

Speaker: Nicki Coles
EQUIPPED For Mission

Speaker: Cory McKenna
ENGAGED For Mission
Speaker: Mark & Aiden Jurgeneit, YWAM Muskoka
(NOTE: YOUTH MISSION eNGAGE -- FREE for REGISTERED Youth | Bonus for ADULT Conference Registrants)
10:00pm | Exhibit Showcase & Forum CLOSES | ATRIUM & RIALTO HALL
SATURDAY | OCTOBER 20, 2018
9:00am | Registration Check-in | Main Entrance
9:00am | Exhibit ShowCase & Forum OPENS | ATRIUM & RIALTO HALL | Note: Exhibit ShowCase Highlights on the Hour in RIALTO HALL
9:00am - 9:30am | Open Prayer & Worship | TIVOLI ROOM
10:00am - 11:30am | MissionTALK Plenary Sessions -- TRADITIONAL MISSIONS | TIVOLI ROOM
11:00am | SHOWCASE HALL SPEAKERS' FORUM | Kerith Retreats – Focus on the Family | RIALTO ROOM
11:30am - 1:00pm | MissionTALK Plenary Sessions -- ARTS IN MISSIONS | TIVOLI ROOM
12:00pm | SHOWCASE HALL SPEAKERS' FORUM | Intercede International | RIALTO ROOM
1:00pm | SHOWCASE HALL SPEAKERS' FORUM | Children of Rescue Cambodia dancers | RIALTO ROOM
1:00pm - 2:00pm | Lunch Break
2:00pm - 5:00pm | MissionTALK Plenary Sessions & Q&A -- BAM, Media, Education and New Movement segments | TIVOLI ROOM
2:00pm | SHOWCASE HALL SPEAKERS' FORUM | SIM Canada | RIALTO ROOM
3:00pm | SHOWCASE HALL SPEAKERS' FORUM | Global Outreach Mission | RIALTO ROOM
4:00pm | SHOWCASE HALL SPEAKERS' FORUM | GFA World | RIALTO ROOM
5:00pm | SHOWCASE HALL SPEAKERS' FORUM | Transformation Canada | RIALTO ROOM
5:00pm - 7:00pm | Dinner Break
7:30pm - 10:00pm | Worship & Ministry Presentation: Children of Cambodia Dance Troup | TIVOLI ROOM
| Closing MissionTALK Plenary & & Panel Discussion | TIVOLI ROOM
10:00pm | Exhibit Showcase & Forum CLOSES | ATRIUM & RIALTO HALL
Regional Conference Ends
SEE PROGRAM DETAILS & SPEAKER BIO