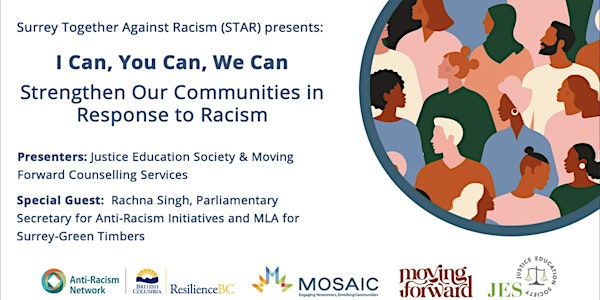 I Can, You Can, We Can: Strengthen Our Communities in Response to Racism
An informative event that provides legal and counselling support information for combatting racism in our communities
About this event
About this event
Surrey Together Against Racism (STAR), led by MOSAIC, invites you to join the event marking the International Day for the Elimination of Racial Discrimination.
Strengthen Our Communities in Response to Racism is the first event in our event series, I Can, You Can, We Can, which aims to provide legal and counselling support for fighting against racism.
The event will provide legal and counselling support information for responding to racial discrimination and incidents. There will be Q&A sessions to answer your questions.
Everyone is welcome. Please join us to learn more about the actions you can take to combat racism and create a safe community.
Registrants will receive a Zoom link for the event.
About our special guest
Rachna Singh is the first Parliamentary Secretary for Anti-Racism Initiatives. She is the MLA for Surrey-Green Timbers. She was elected as an MLA in 2017 and 2020. She will share information about the government's support for those who experience racism.
About our presenters
The Justice Education Society of British Columbia (JES) is a non-profit organization with over 30 years of experience in providing public legal education. Each year, the Society helped over 700,000 British Columbians to learn about the justice system and address their legal issues. JES is focused on improving legal capability, helping people access justice and address their legal needs.
Moving Forward Family Services is a non-profit organization that provides accessible counselling options to communities across Canada via in-person, telephone, and online platforms. Their judgment-free environment offers help to a variety of clients no matter their age, race, identified gender, financial situation, or location.