| | |
| --- | --- |
| I Can't Believe It's Not Butter Chicken: The "Best Of" Show! | |
Event Details
***NOTE:  NEW SHOWTIME JUST ADDED ON NOV 23 & 24th. TICKETS NOW ON SALE HERE. Call 778-706-6224 for more information.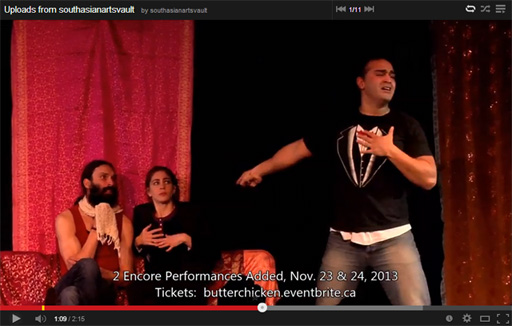 THANK YOU Surrey for showing us so much love by selling out all 5 showings of I Can't Believe It's Not Butter Chicken: The "Best Of" Show! this past weekend.
 
Nearly 80% of the audience members had never seen a "Butter Chicken" sketch comedy show in the past, and now that they've had a taste, they want more. And hey, we're not ones to disappoint, so due to overwhelming public demand we've extended our stay in Surrey and added 2 more shows Nov. 23 & 24 at 8pm at the Newton Cultural Centre on 72nd Ave & King George in Surrey. Tickets are now on sale and already selling fast!
 
If you waited too long to get your tickets this past weekend and were forced to stare through the front door at the theatre, don't be left out in the cold again. Get your tickets before they're all gone. With only 100 seats per show, they'll be gone within a couple of days. Seriously!
 
And if you're still not sure what the show is all about, have a look at the video above of one of the sketches performed in the show called "Dance-O-Gram."
 
Basically, get ready for some rapid-fire, edgy, racy, R-rated comedy skits, written by the Bollywood Shenanigan crew.
 
Imagine a little bit of "Saturday Night Live" mixed with some ol' skool "In Living Colour", a little singing n' dancing and topping it off with a whole lot of Bollywood. It's something so tasty it'll make you scream…
I Can't Believe It's Not Butter Chicken!
Some of the sketches you'll see include "Dance-o-gram", "Latin Babu", "Typical Brown Girl" and lots more!
 
Tickets are $20 in advance (plus service charges) or $25 at the door.
Purchase online at butterchicken.eventbrite.ca or at Kamal's Video Palace (604-592-9777).
***MUST BE 18 TO ENTER!
I Can't Believe It's Not Butter Chicken: The "Best Of"Show features Munish Sharma, Leena Manro, Jason Vaisvila, Kallol Mitra, Carmel Amit (all from Vancouver), Sabrina Saran (Burnaby), and Stuart Gray (Surrey) and is presented by South Asian Arts and Bollywood Shenanigans.
Where

Newton Cultural Centre
13530 72 Avenue
Surrey, BC V3W 5A4
Canada

Organizer
South Asian Arts Society
South Asian Arts aims to balance the lives of adults and children and develop their individuality through the arts. We are committed to creating performance and educational opportunities for professional & amateur artists and build artistic forums that act as a platform for building knowledge of South Asian culture via New projects; New ideas: New collaborations. 
Facebook:  /southasianarts
Twitter:  @southasianarts 
Bollywood Shenanigans
Bollywood Shenanigans was created by Munish Sharma and Leena Manro with a mission to inspire the world and raise social consciousness through comedy, satire, bollywood song and dance.  Bollywood Shenanigans brings together writers, actors, singers and dancers to entertain audiences and to facilitate discussion on South Asian topics with respect to intercultural and cross cultural issues, while bringing a smile to the faces of their beloved audiences.  
Facebook:  /bollywoodshenanigans
Twitter:  @bshenanigans