Description
Sudbury Burlesque, the company that brought you the highly successful burlesque show "Monster's Ball 3", will be turning back time to the totally tubular and tacky 1980's! So get your crimper out, hop in a Delorian, and get to the Grand Theatre February 16th & 17th for "I Heart The 80's Burlesque" - a costume party and burlesque show that will be rad and racy. After the show, you can make your way over to the after party at Coyotes Nightclub to bust a move and take in some more pop up burlesque acts!
Tickets sell quick, so grab yours today!
Prefer to purchase in person? No problem :) Check out one of our physical ticket locations listed below!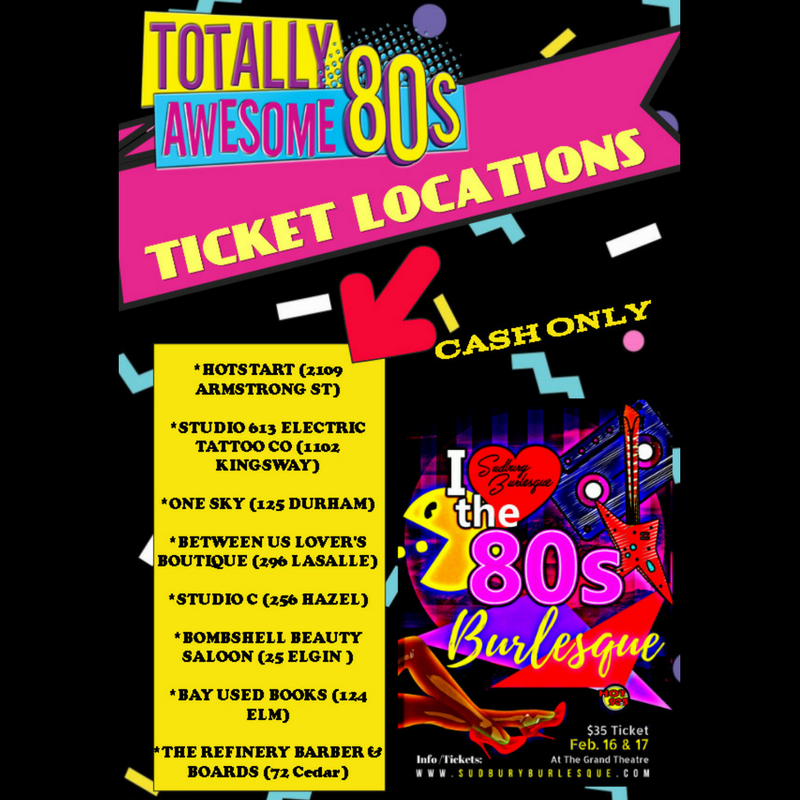 SEATING:
*RESERVED SEATING is limited to sponsors and individuals with disabilities. Reservations for seats due to physical limitations must be made in advance by contacting Sudbury Burlesque via sudburyburlesque@gmail.com
GENERAL SEATING is first come first serve (festival seating), with over 400 seats on the floor and in the balcony. There are also standing room only areas.
Doors: 7 pm
Show: 8 pm