Move to promote IWS activities that support the integration of Immigrant and International Women in Science, in Canada
About this event
To say bye to the hot summer and welcome the Fall season, IWS is organizing a virtual fundraising campaign, 'I move for Immigrant Women in Science' that will take place from September 18th to 26th.
The IWS network has always been the torchbearer to build a collaborative network that supports and promotes equity, diversity, and inclusion of Immigrant and International Women from STEM backgrounds in Canada.
The event offers the opportunity for everyone to participate across Canada in their comfort zone. Over a week, participants can choose any mode of motion as they wish. You can skip, hop, run, jog, bike or even row! Activity and distance is yours to choose.
Participants will need to register and purchase tickets through Eventbrite. Tickets may be purchased for $5, $10, $15, $20 and $25. Please do note that the distance you 'move' is equivalent to the ticket purchased. For example, if you decide to move 10kms, you are buying a ticket for $10.
The funds raised will help us to support our operations, outreach, and develop new programs. Any small help can make a big difference!
Are you ready to take up the challenge to support the future of immigrant women in STEM?
Once you are registered through Eventbrite, you will receive an order confirmation. Please note that this is not a competition and we will not have any rankings.
Everybody will be acknowledged on our Social Media platforms (Twitter, Linked In, Facebook). Thus, as soon as you complete your 'move', email us a picture/selfie or screenshot from your device at: iws.fundraising@gmail.com, or you can post a picture/selfie on Social Media channels and tag us! (Optional).
"Let's Move Together to Support Each Other" for IWS! Everybody is welcome to join!
#Imove4ImmigrantWomeninScience
#immigrantwomeninscience
#Imove4IWSnetwork
@IWS_Network (Twitter); and @IWSNetworkCanada (Facebook)
Thank you and happy moving!
IWS-Network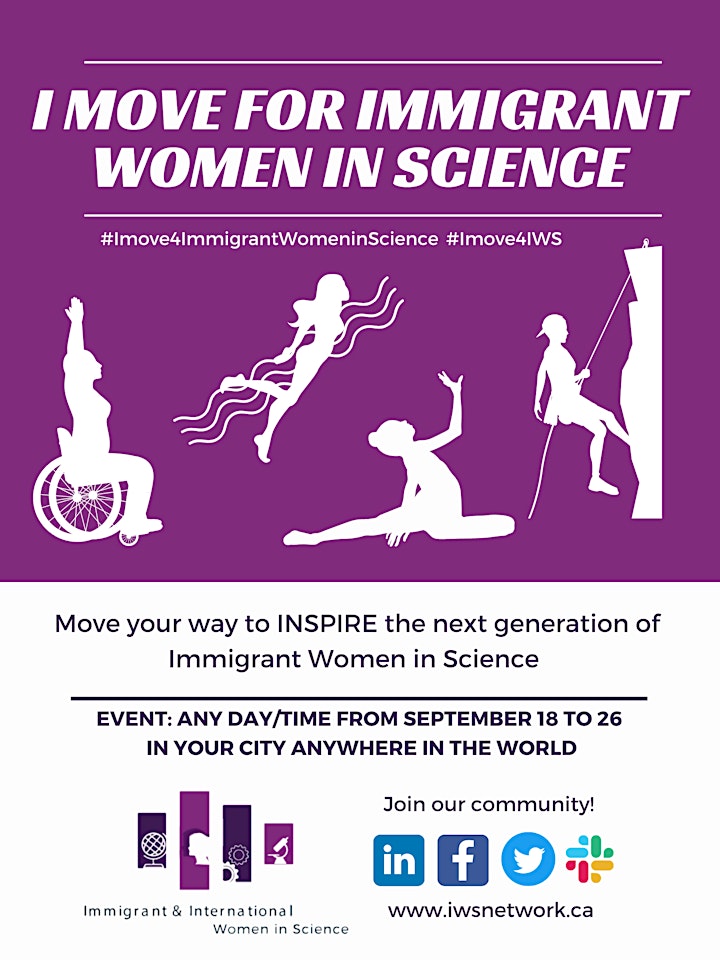 Privacy Statement:
IWS takes the privacy of your personal data seriously. Through the registration of this event "I Move for Immigrant Women in Science 2021" we might collect some information that constitutes personal and non-personal data. The data we may collect includes name (first and last), email address, location (city, province/territory, country), affiliation to IWS, and consent to receive future communication from IWS.
The purpose to collect this set of information is to notify you of the details of the event, answer your questions or solve any issues in case these arise. Your email will be added to our Marketing and Communication database, and you will be only contacted for this purpose. We may use the data in an aggregate manner, for statistical purposes, i.e. to count the number of participants, group participants by location, in order to improve and better direct our programs and event to you.
We will retain your data for as long as necessary to provide you with the event details and further IWS' information of interest.
You can also "opt-out" of receiving these electronic communications by clicking on the "Unsubscribe" link at the bottom of any such electronic communication or by contacting us at iws.canadian@gmail.com.
If IWS intends to use the data collected in and any other way from what has been indicated above, you will be informed, and requested consent if you deem it appropriate. Learn more about our Privacy Policy.
Please note that Eventbrite is the designed platform to sign up for this event and be the payment processor and has a Privacy Policy in accordance with the handling of Personal, non-Personal and Billing data. Refer to Eventbrite Privacy Policy Section 3.3