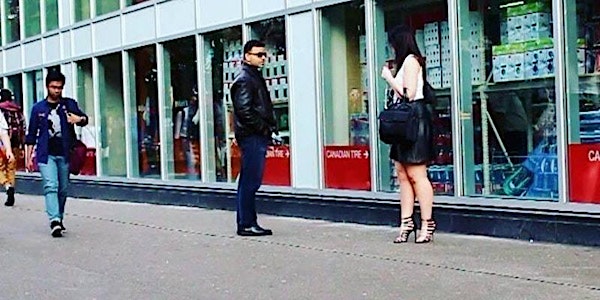 I will show you how to "Cold" attract anyone within minutes!
#1 Cold attraction, seduction, big ticket sales trainer and training in the world, Toronto. Learn how to attract others in minutes!
Refund Policy
Contact the organizer to request a refund.
About this event
Hi, my name is Omar. I teach people(mainly men but open to women) how to "COLD" approach, GENERATE REAL ATTRACTION(Not fake or no attraction like most so-called experts) and convert any person they've just met into a big ticket deal or a solid date, ON THE SPOT. I have a solid track record based "License to teach" and real-world, experience, selling myself to the toughest customer in various, harsh environments, in life, in the dating game, and in the business game. So yes, I have some serious "street credibility". (Screenshots included)
Some noteworthy accomplishments:
Currently a high net worth, cold lead generation consultant for the biggest bank in Canada. Brought in millions of dollars of assets from a cold call within just a few months. Booked, 50 first meetings with high networth leads(who had investible assets from 750K to 3 mil) within a year and 2 months, during lockdown. The average amongst even senior IAs is about 28/year.
Also run a virtual coaching business, which was reformatted from a "Live in field bootcamp" business I had many years ago that took me to NYC, Chicago, Montreal, and locally here to run sold out "social dynamics, attraction, and leadership" bootcamps for men at $1100.00 USD/client
Been featured on the radio and in the National Post(Still have the article, if you want to see it)
Founded and grew a home based "headhunting" business from 0 to 100K, in 5 months from sheer balls, social intelligence, charm and GAME via cold calling.
Went out in 1 month and procured 25#s and many dates from women I cold approached, during my lunch break in Downtown Toronto, around the Eaton Centre area.
Grew a Facebook group from 0 to 5K members in 3 months.
and much more....
During the Pandemic....
I've reinvented myself, my COLD APPROACH, ATTRACTION, INFLUENCE AND SALES/BIG TICKET CLOSING GAME to another level, and my business model to embrace the virtual platform, specifically ZOOM which has become a mainstream medium through which people are not only engaging in business transactions but are learning things. Plus I want to connect with and help as many people as I can with my quick 4 step system. So yes, I'm offering virtual coaching on ZOOM in 2022 and onwards....
This is a 4 step system that I used to break down the "COLD approach, attraction, and seduction" process in life, in the dating game, and in the sales/business game. into, through years of painstaking, hard work, and trial and error. Lastly, by role modeling some killer closers I had met along my way.
I am now sharing this 4 step Seduction, Persuasion, and Big Ticket Sales Closing system via a 1 hour ZOOM session, which I call my "Game Accelerator Coaching Call"
You will learn a few things like:
1. How to successfully approach someone in any situation so as to instantly make them want to know you, within seconds.
2. How to create a "gravitational pull" on others, by cultivating and exhibiting, what I call "THE SELECTOR FRAME" This is a certain vibe, energy, and attitude you will project using your words and body language that is known to instinctively magnetize people, beautiful women to you and compel them to feel a strong attraction to you, within minutes.
3. Learn the 5 things that KILL ATTRACTION that 99% of men do and how to avoid them. I'll then explain to you the 5 ATTRACTION IGNITORS that SPARK attraction in seconds.
4. My step-by-step, "REJECTION PROOF" process on how to CLOSE A DATE OR DEAL, once you've generated attraction in someone for you, or your ideas or vision. On the spot.
5. How to know the difference between real vs fake social cues for attraction, so that you know who to CLOSE, using my "CLOSING SEQUENCE" which I'll teach you and much more
Finally, I'll give you my NO BS honest breakdown as to what you are doing wrong
In terms of:
how you think
your vibe/energy/body language
what you are saying, how you talk, how you behave/act
what you are doing, in terms of how you try to attract or close someone.
Then I'll show you exactly, how to think, what to say, how to say it, when to say it, how to act, what to do something in the attraction process, when and how to close someone, so that you "GET IT"
BTW, once again everything that I teach has been 100% backed up, field-tested by me and a few killer closers I role-modeled as the "NO BS" truth about how to COLD approach, attract and close anyone and transform yourself into HIGH ROLLER!
I'm offering this at a huge discount.
I normally would charge $1100.00 US for an in-field or in-person training program
and even $500.00 for a Virtual Training Session for an hour
I'm offering this virtual ZOOM training program for ONLY $35.00. I'll even refund your money after the call if you're not mind blown and have an actual "A ha" moment unlike the lack lustre response you might have from listening to the rest.
This is how much I'm willing to bet on my street cred, skills, experience and results-based background, and ability to help you take your GAME to the next level unlike anyone else.
So what are you waiting for, I'm giving you Game/Life changing coaching for 1 hour for less than nothing when I'm used to charging in the high 100s to low 1000s.
Only 7 spots left!
Omar