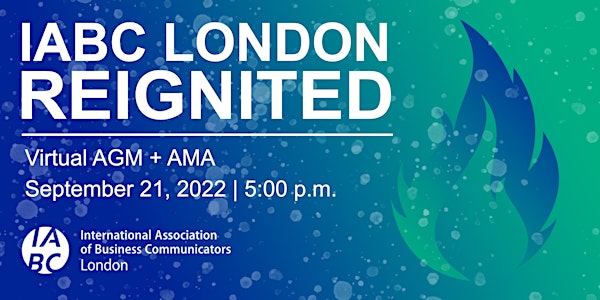 IABC London Reignited: Virtual AGM + AMA
IABC London's 2021/22 Annual General Meeting and Ask Me Anything (AMA)
About this event
Join IABC London for our Annual General Meeting where we will celebrate achievements from the past year and share our vision for the year ahead.
It's been a while since we've heard from you. Maybe you have an idea that will inspire a future event? Or you might have some feedback you've been wanting to share? We're eager to make this year a great one and that means hearing what you have to say, incorporating it into our plans and offering real value across the board.
EVENT DETAILS
Date: Wednesday, September 21, 2022
Time: 5 - 6 p.m. ET
Open to everyone (IABC membership is not required)
A Zoom link will be sent out closer to the event date.