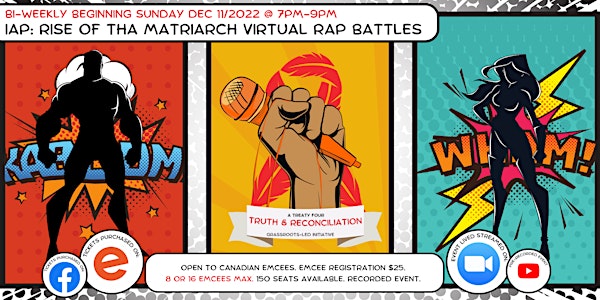 iap: Rise of the Matriarch Virtual Rap Battle #1
Let's heat up winter with a rap battle hip-hop challenges while helping artists showcase their talent and possibly even earn some money!
About this event
GENERAL INFORMATION
iap: Rise of tha Matriarch Rap Battle Challenge is a bi-weekly virtual (online) competitive event open to both indigenous and non-indigenous MC's that provides 8-16 competitors with opportunity to showcase their lyricism, artistry, creativity and skills for media exposure, cash prizes and championship titles.
This challenges support the production of iap: Rise of the Matriarch Mixtape which is a urban Indigenous grassroots Truth & Reconciliation artistic project based out of North Central, Regina created by Pimohse Oochoo which will be released early 2023.
For our rules & regulations or for more information please feel free to check out: www.iampimohse.ca/events