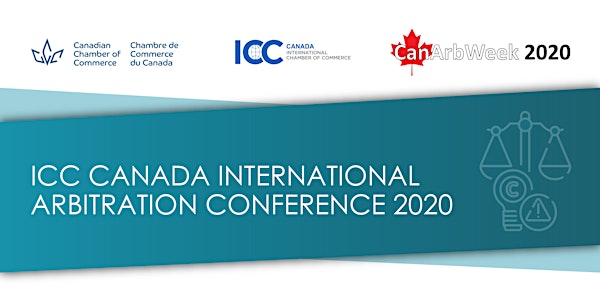 ICC Canada International Arbitration Conference September 25, 2020 | 10:30
ICC Canada we will be holding its annual International Arbitration Conference on Friday, September 25, 2020 from 10:30 a.m.-2:45 p.m. ET.
About this event
This year's theme is International Arbitration in the COVID-19 Environment and Beyond. The conference is held in collaboration with Arbitral Women and INSOL International and will be hosted virtually by Arbitration Place Virtual.
The conference will also be held in conjunction with the inaugural CanArbWeek, happening Monday, September 21 – Friday, September 25, 2020. ICC Canada is delighted to be a presenting organization of CanArbWeek. For more details, please visit: CanArbWeek.Org.
Conference Overview
This year's conference features two 90-minute panel discussions.
Virtual Proceedings – The Good, the Bad and the Ugly
Co-hosted by ArbitralWomen
The COVID-19 pandemic has disrupted traditional methods of administering, hearing and adjudicating arbitrations. On the one hand, this disruption has led to (arguably overdue) innovations in how arbitrations are conducted. On the other hand, it has exposed the relative infancy of today's digital infrastructure to deliver an adjudicative experience truly comparable to in-person proceedings. The panel will discuss best practices for virtual proceedings and what we can expect in the post-COVID-19 era.
International Arbitration and Insolvency Proceedings in the Wake of COVID-19
Co-hosted by INSOL International
Insolvencies are expected to dramatically increase as businesses try to survive the effects of COVID-19. A growing number of insolvencies will likely have an impact on international arbitrations, adding complexities in matters of capacity, procedure and enforcement. The panel will discuss best practices in addressing the intersect of international arbitration and insolvency.
Click here to view the detailed agenda.
For registration inquiries contact arbitration@chamber.ca.