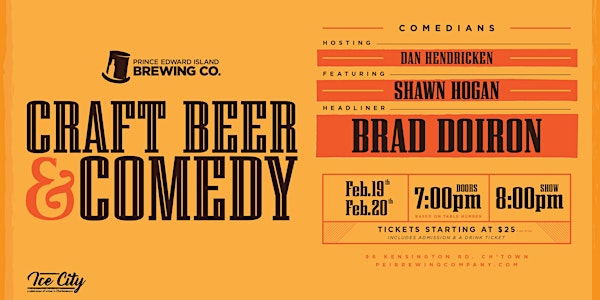 Ice City presents: Craft Beer & Comedy - February 20
presented by Ice City Festival and Whitecap Entertainment
Location
Prince Edward Island Brewing Company
96 Kensington Road
Charlottetown, PE C1A 7Z7
Canada
Brad Doiron featuring Shawn Hogan, hosted by Dan Hendricken.
About this event
Ice City presents Craft Beer & Comedy! We can't wait to bring comedy back to the brewery. Island comedians are ready to give you a night of laughter and fun. Hosted by Dan Hendricken and featuring guests Shawn Hogan and closing out the night with Brad Doiron.
FYI: Tables 11 - 14 may have a slightly obstructed view of the stage.
Dan Hendricken
Originally hailing from PEI, Dan Hendricken is one of the top comics to come out of the Maritimes. He cut his teeth in comedy at the Yuk Yuk's club in Halifax and in just a few short years was featured on CBC TV as part of the Halifax Comedy Festival. Since then, Dan has headlined comedy clubs all over the country, including Yuk Yuk's flagship club in downtown Toronto. He draws in every audience he performs for with his easy charm and like-ability.
Shawn Hogan
Originating from Mill River, Prince Edward Island, Shawn Hogan has produced and starred in dozens of sold out comedy shows across his home province. Over the last 10 years he has performed and lived in Toronto, where he created, produced, and hosted the Hangover Cure Comedy Show, one of Toronto's most successful & unique comedy shows which made its Just For Laughs Festival debut last year.
To close out 2020, Shawn will be making his second consecutive appearance at the Halifax Comedy Festival, where last year he made his national television debut. In 2019 he was also a featured comedian on CBC Radio's "Laugh Out Loud", and was a finalist in the Brantford Comedy Festival's $10,000 competition.
Brad Dorion
Brad Dorion is as funny as he is hairy, which is a lot. His comedy career started in Ottawa and Vancouver but he has called PEI home since 2018. He performs Comedy regularly around the province but always finds enough time to spend time with his cats. Brad's comedic goals are humble and realistic, he wants a five bathroom house and a gold-plated Tesla (he is an environmentalist after all).
PEIBC Catering & Events: Covid Procedures
• All guests must sign in upon entrance and provide contact information for contact tracing purposes.
• Masks are mandatory for all guests unless, seated, eating, or drinking.
o Masks are recommended if sitting at a table with people you may not/do not know.
• Garbage cans will be placed around the room to encourage guests to dispose of their own glassware.
• Social and physical distancing must be practiced for the duration of the event.
• Inter-table and inter-pod mingling is not permitted
• Please follow the flow of traffic arrows when getting up from your table
• Please stay seated as often as possible.
Check in
• Tables 1-5 can check in between 7:00-7:15pm
• Tables 6-10 can check in between 7:15pm-7:30pm
• Tables 11-15 can check in between 7:30pm-7:45pm
o If guests are late for their designated check in time they will be asked to wait until guests have checked in and will be escorted to their table.
Staggered Exit Times After the Show is Over
• Tables 6-10 will exit first after the event.
• Table 11-15 will exit second after the event.
• Tables 1-5 will exit last after the event.
Bar service
• There will be no walk-up bar service permitted during the event.
• Table service will be available throughout the show.
• No cash payments will be accepted- debit/credit only.
• Guests are welcome to run a tab throughout the show and pay at the end or can pay in individual transactions.
• Plastic glassware will be used for all beverage service to avoid any unnecessary contact with staff.
Washrooms
· Tables 1-8 will use the main washroom upstairs on the second floor.
· Tables 9-15 will use the washrooms on the main floor, located underneath the stairs.