Event Information
Location
SGF - Temple Community Rink
167 Templegreen Road NE
Calgary, AB T1Y 6G3
Canada
Come join us at the first Skate Global Foundation "Ice Rinks for Inclusion" opening in Calgary, Alberta!
About this event
Come join us for our first ICE RINKS FOR INCLUSION, presented by Skate Global Foundation on December 17th in Calgary, AB.
A fundraiser for the Temple Community, and to commemorate the launch of the Skate Global Foundation, all are welcome to celebrate!
Featuring performances by Elladj Baldé and friends.
Fundraiser for the Temple community | Suggested $20 Donation (Currency in USD)
PERFORMANCES | OPEN SKATE | LIVE DJ
Date: Friday, December 17 2021
Time: 4:00 P.M. to 7:00 P.M. MST
Location: 167 Templegreen Road NE, Calgary, AB, T1Y 6G3
For more information:
info@skateglobalfoundation.com
Skate Global Foundation (SGF) is an impact driven global not-for-profit organization founded by Elladj Baldé and Michelle Dawley, built on three major pillars: Equity, Diversity and Inclusion (EDI), Mental Health and Climate Change. With each special project or initiative, Skate Global Foundation (SGF) engages and unites members of the communities at large to foster conversations and activate positive change within any and/or all pillars with which it was founded.
Our first initiative is an exclusive partnership with EllisDon to build and rehabilitate rinks across Canada – the first of which is upgrading the outdoor rink in the Temple Community.
Opening on December 17th – we're celebrating with unique, fun and engaging opportunities for the youth of the community.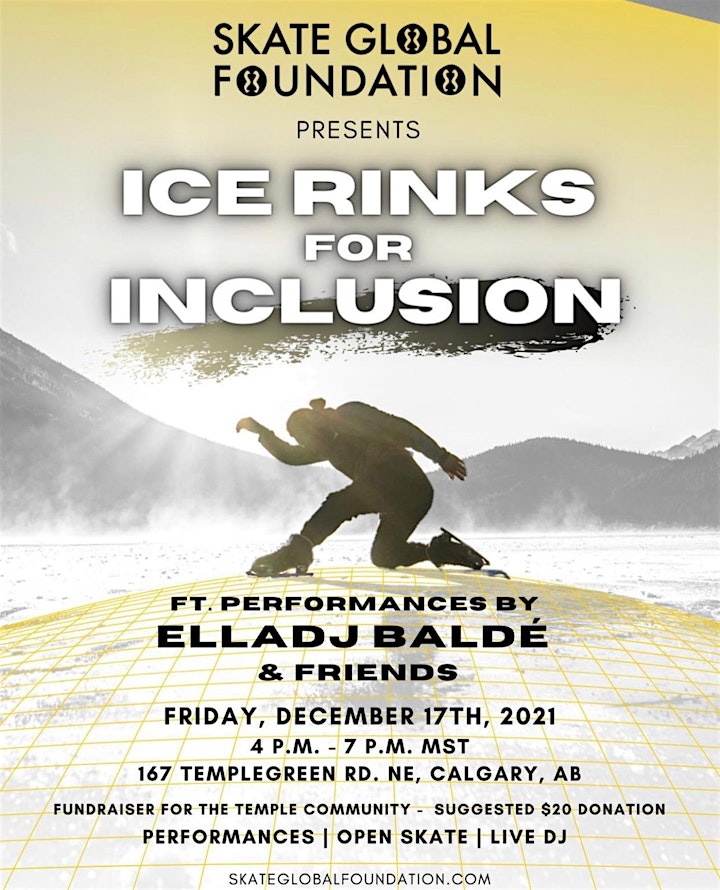 Date and time
Location
SGF - Temple Community Rink
167 Templegreen Road NE
Calgary, AB T1Y 6G3
Canada