Iceland's South Coast Photography Workshop (Sept 26 - Oct 3, 2016)
Description
Join us for an unforgettable adventure in Iceland. This workshop takes us along the southern coastline. We'll see waterfalls, glacial lagoons, black sand beaches, and floating icebergs, sometimes all on the same day.

OVERVIEW
• Dates: Sept 26-Oct 3, 2016
• Cost: $4600.00 USD
• 8 days / 7 nights
• Limit: 8 participants
• Instructors: Louis Au & Ariel Estulin

More information about the workshop at www.outdoorphotojourney.com
Iceland is not a destination, it's an adventure. A land of many contrasts, Iceland has often been called the "land of fire and ice" with its active volcanoes and massive glaciers. It has awe-inspiring raw and wild landscape that is truly unique. The breathtaking vistas make it a photographers' paradise. From glacier lagoons to waterfalls, striking coastlines to black volcanic beaches, there is no shortage of things to photograph. The quality of light in Iceland is also exceptional due to its northerly altitude. With its unpredictable weather, the conditions can change in a matter of minutes, making chasing the light a real thrill. In the fall, be prepared to tag on the magical Aurora Borealis (northern lights) to the long shoot list.
Iceland Workshop Gallery (click on image below)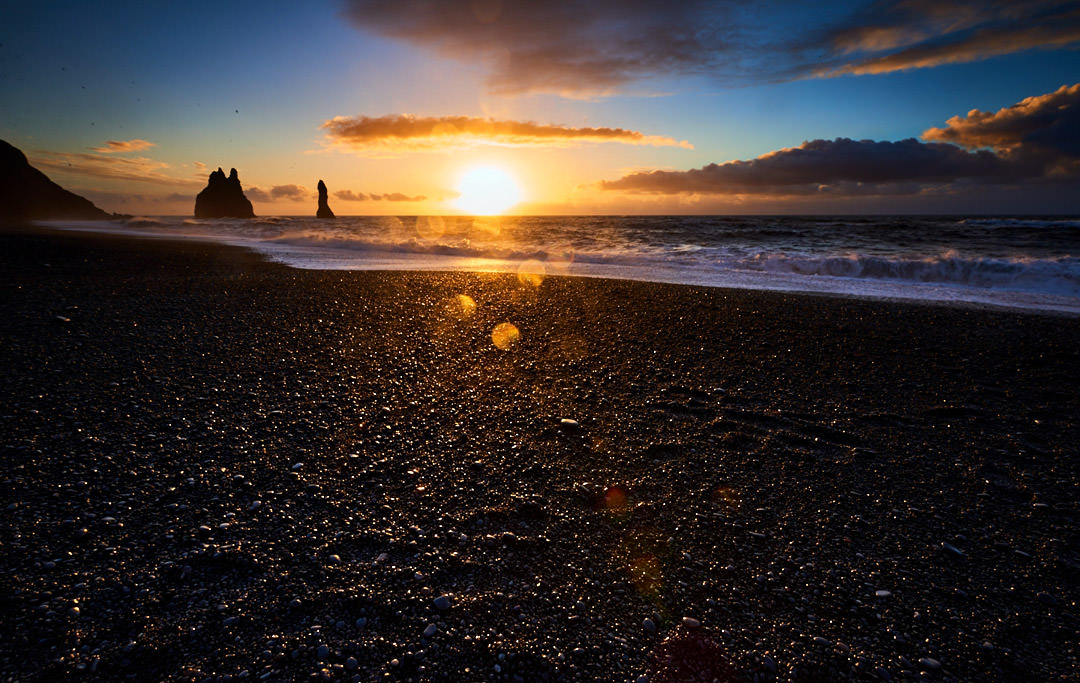 Workshop Highlights
•  accompanied by 2 professional photographers
•  small group with personalized attention
•  daily critique of your photography
•  Viks famous dark sand beach
•  Glacial lagoon in Jokulsarlon
•  Vestrahorn mountains at sunset


What am I going to learn?
This is a photography workshop not a tour, so expect to learn new skills in composition and the art of seeing. Instead of formal lectures, our workshop will be focused on providing you support in the field in helping you develop your photographic technique, skill and voice. Our small group size allows for one-on-one personalized attention at every step of the way. Some of the topics we will cover are: using your camera to its full potential, capturing unique landscapes, proper exposure, panoramas, night photography and natural portraits of local life.
At the end of each day, we sit down with every participant to critique your day's work and show you how to post-process your images – an important and often overlooked step. This will be done on an iPad.
Photography Skills
This unforgettable experience is perfect for those who want to explore Iceland and at the same time, learn and improve their photography skills. For the new photographer, it's a perfect fit as you learn to master your digital camera and the art of photography. For the more advanced photographer, we'll focus on capturing the story and experience of being in Iceland rather than a snapshot record of it.
---
Detailed Itinerary
DAY 1: Keflavik to Reykjavik
Accommodations: Reykjavik
You will arrive at Keflavik International Airport and from there take the Flybus directly to your hotel in central Reykjavik. We will all meet in the evening in the hotel lobby and go out for dinner where we will get acquainted the other participants and review the itinerary of the journey that awaits us.

DAY 2: Seljalandsfoss, Skogafoss, Dyrholaey, Reynisfjara
Accommodations: Vik
We'll start our adventure early this morning. You will be picked up by bus and we'll begin our journey eastwards along the southern coastline towards todays final destination of Vik. On your way we will stop to photograph two of Iceland's most picturesque and popular waterfalls, Seljalandsfoss and Skogafoss.
Our first stop is Seljalandsfoss which has a 63 metres drop. A unique feature of this waterfall is that it allows visitors to walk behind the falls thus allowing one to shoot from all angles. Next we will head to Skogafoss, one of Iceland's most famous waterfalls. This is a massive waterfall with a 60 metre drop and a span of 25 metres. It is known for its thundering boom and rainbow yielding mist under sunny skies.
Travelling east again we arrive at the town of Vik. Here we'll visit the black sand beaches of Reynisfjara. US Island Magazine voted this beach as one of the ten most beautiful beaches on Earth. Just offshore we'll see towering sea stacks rising high above the surf. This area is one of the most impressive and beautiful locations in Iceland. The variety here is outstanding – sea stacks, basalt columnar pyramid and of course the black sand beach, continuously pounded by the North Atlantic surf. All-in-all an impressive first day to our adventure.
DAY 3: Vatnajokull National Park
Accommodations: Glacial Lagoon area
Today we continue eastward towards the magnificent area of Vatnajokull National Park and the famous Jokulsarlon Glacier Lagoon. Vatnajokull National Park is one of Iceland's most photographed areas because of its exceptional light and many shooting locations. We'll stop along the way to photograph Svartifoss Waterfall, better known as the Black Fall. The falls is surrounded by dark basalt columns, which gives rise to its name.
DAY 4: Vatnajokull National Park
Accommodations: Glacial Lagoon area
Today we'll focus on exploring Jokulsarlon (Glacier Lagoon). We'll be shooting the ever-changing blue icebergs at the lagoon and the collection of crystal-clear ice chunks on the black volcanic sand beach. The receding glacier above the lagoon sheds icebergs of various shapes and sizes. This procession of icebergs eventually get washed out to the ocean through a narrow channel ending up on the black sand beach. The ice chunks that wash up here daily are like crystal sculptures of different shapes and sizes. You will never see the same scene twice at Jokulsarlon. After dinner, we will come back again and see if the Northern Lights will be on display.
DAY 5: Vatnajokull National Park
Accommodations: Glacial Lagoon area
Continuing east we'll drive to explore Mt. Vestrahorn. Rising 450 meters above the black lava beach on the Stokksnes peninsula, this impressive mountain makes an excellent backdrop for your photographs. Here you can truly appreciate the the power of the Atlantic Ocean as waves crash onto the black sand with a mighty force. Sunset is the best time for getting golden coloured sand dunes and we'll sure to be here to capture it.
DAY 6: Vík
Accommodations: Vik
Today we drive back towards the town of Vik. On our way we will explore waterfalls falling from magnificent cliffs, mountain peaks and glacial outlets, big mossy lava fields, wild horses and more sights we couldn't photograph earlier. The south coast is packed with incredible photographic wonders, so we will choose our locations accordingly.
Arriving in Vik again, we will be shooting our sunset at Dyrholaey. Dyrholaey is a grassy, sculpted headland with a volcanic-sand beach and a huge 120 metre sea arch. This is also Iceland's most southerly tip.
DAY 7: Geysir, Gullfoss, Thingvellir National Park, Reykjavik
Accommodations: Reykjavik
Today we will visit Iceland's "big three" natural attractions. Located along the famous Golden Circle route, Thingvellir National Park, Gullfoss waterfall and the Geysir geothermal area are Iceland's most popular attractions.
Thingvellir National Park is Iceland's most important historical site and it's here that Vikings established the world's first democratic parliament. At the park, you can witness the fissure-ridden rift valley pulled apart by the North American and Eurasian tectonic plates. The area features cliffs, grass-covered lava fields and the largest natural Lake Thingvallavatn at the southern end. This outstanding beauty offers excellent photographic opportunities. Within the park, there is a smaller waterfall named Oxararfoss. It is a scenic spot with a unique geology.
Next we visit the geothermal area of the spouting hot spring Geysir. This is the original hot-water spout that all other spouting hot springs on earth are named after. Its neighbour Strokkur geyser erupts every 8-10 minutes and hurls boiling water up to 20 metres high.
And last but not least, the thunderous waterfall of Gullfoss. This powerful, two-tier waterfalls offer a stunning vista as the river plugs into a deep canyon. From afar, the river appears to vanish into the earth. Gullfoss is a unique waterfall geographically thus making it one of the most popular sights in Iceland.
After a full day of photography we will be heading to Reykjavik for the night.
DAY 8: Transfer to Keflavik airport
We will be wrapping up our workshop today. You'll take the Flybus to Keflavik airport for your flights home bringing with you fully loaded memory cards and unforgettable memories.
---
Physical Challenge
This workshop is rated as leisure. You don't need any special skills, aside from walking. Bring your camera and your enthusiasm and prepare to be amazed.
Equipment
A comprehensive gear list will be sent to registered participants that will outline the personal and photo gear needed for this workshop.
Insurance
All workshop participants must have personal articles policy, homeowner's policy, or special camera equipment policy, as well as traveler's insurance.
Weather in Iceland

September bring the fall season to Iceland, and with it, incremental weather. For the landscape photographer this translates to incredible light and photo opportunities. If you're looking for sunny blue skies, you're probably better off on a beach somewhere.
---


Payment Schedule
To reserve your spot: $500 deposit
120 days before the trip 100% balance due

Cancellation fee schedule
• 90 days prior to workshop start date we retain 25%
• 60 days prior we retain 100%
• 30 days prior we retain 100%
Cancelled Workshops
In the unlikely event that a workshop is cancelled by Outdoor Photo Journey, all fees will be refunded in full. In the event of a workshop cancellation, Outdoor Photo Journey is not responsible for reimbursement of any travel, lodging, equipment rental, or any other related expenses. We recommend purchasing travel insurance to cover any non-refundable registration fees, travel, lodging, equipment rental, or any other related expenses.
---
FAQS
What's Included
•  All Transportation
•  Accommodation based on double occupancy in hotels and guest houses. Rooms with private bathrooms.
•  FlyBus tickets for transfer from and to Airport
•  Full board during workshop, from dinner on day 1 till breakfast on day 8

What's Not Included
•  International airfare to/from Iceland
•  Personal Insurance which covers, medical, theft expenses
•  Snacks and alcohol
•  Personal gear and camera gear

If you have questions about this workshop, please send us an email.
Learn more about who we are at www.outdoorphotojourney.com