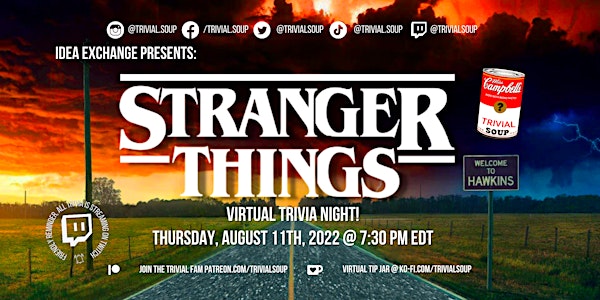 Idea Exchange Presents: Stranger Things Trivia
This trivia will cover Seasons 1 to 3 for sure. Not sure about season 4 yet.
About this event
Hey, Trivia Fans!
Join us on TWITCH for four rounds of ten questions!
Doors open at 7:30 pm, and the game starts at 7:40 pm
If you have any questions, please reach out to Trivial Soup before 7:30 pm EDT. Thanks a bunch!
We play competitively at TriviaRat.com/SOUP
There is no pressure to play competitively, you can find the host in the chat and send a private message or write on paper. *Trivia Rat is the only way to be on the leader board.
While trivia is free to play, donations, if able, are highly appreciated via Ko-fi.com/TrivialSoup