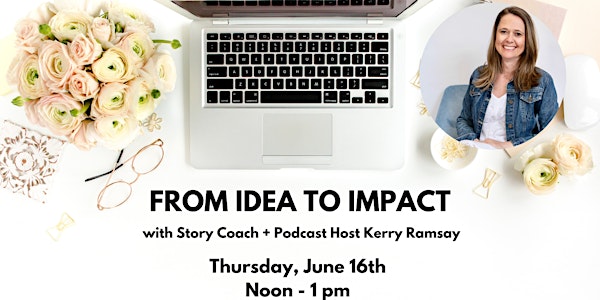 "Idea to Impact" Workshop for Women Speakers, Leaders + Entrepreneurs
If you're a woman leader, speaker or entrepreneur who's ready to create impact with her personal or professional brand, be sure to join us!
About this event
Every day, I'm surrounded by amazing women like you who are looking to create impact with their brand or business, but they're not always sure how to get their idea off the ground or how to get traction once they begin.
In this 1-hour workshop, we'll get our feet wet in the Idea Waterfall and discuss how YOU can create a ripple effect with the big idea behind your product or service-based business.
By the end of this workshop, you will:
* Become familiar with the 5-step Idea Waterfall Model
* Discover the value of your own story in creating a splash
* Know the next step you need take to move from idea to impact
The session will also include time for Q&A.
ABOUT THE PRESENTER:
Kerry Ramsay is a Story Coach and Host of the Power Your Platform Podcast. She has worked for more than 20 years with women speakers, leaders and entrepreneurs to help them build bold story brands and create impact in the world.
She is also the founder of PowerHER Platform, where she helps women create impact through storytelling. Her services include one-on-one coaching, workshops and strategy sessions.