IDEAS 2021 showcases the positive impact of workplace diversity while providing real tools to help incorporate IDEA into your workspace
About this event
PLEASE NOTE THE VENUE CHANGE
Event location: Emera Innovation Exchange
100 Signal Hill Rd, St. John's, NL A1A 1B3
IDEAS 2021 - Inclusion, Diversity, Equity and Anti-Racism Summit: Where Theory Meets Practice is an employer focused, full-day, event with the ultimate goal of making the province of Newfoundland and Labrador's workforce a more welcoming place for immigrants, racialized people and others from underrepresented groups.
In an effort to promote successful immigrant inclusion and retention, the event will break down necessary aspects - Inclusion, Diversity, Equity and Anti-Racism - for participants to understand each of them in theory, and how they contribute to welcoming workplaces individually and intersectionality. The event will also profile real-life examples and practical tips for employers to build IDEA into their day-to-day business practice.
This event provides a forum to showcase the positive contributions and impact of immigrants, racialized people and other underrepresented groups in the labour market, while facilitating a larger conversation about the value of intercultural awareness, inclusion, and integration of diverse groups in the province.
The event will be held in-person at the Johnson Geo Centre in St. John's, NL. To help provide a safe and accessible space for participants, the event will have American Sign Language (ASL) interpretations and French language interpretation.
Not able to attend IDEAS 2021 in person?
No problem! You can you view a specific session or spend the whole day with us. We'll share the Rogers Media live stream link on our Facebook page and website in the days prior to the event. We'll also email the link when you pre-register at: https://forms.gle/SHMiixLgA4nzH69XA (copy and paste this link in your browser)
For further information contact dbrown@ancnl.ca
Schedule
8:30am Registration opens
9:00am Opening Remarks
9:15am E is for Equity
Dr. Boluwaji Ogunyemi, Assistant Dean, Social Accountability, Memorial University's Faculty of Medicine
10am Break
10:15 am Inclusion Panel
Moderator Ramraajh Sharvendiran
A panel discussion exploring many intersections of diversity, what it can - and cannot - look like, and why it is important
Daphne March, Indigenous advocate
Kathy Hawkins, Empower NL
Mariana Castro, Music NL/Musician and Researcher
11:15am Diversity Panel
Moderator: Ramraajh Sharvendiran
Employers and employees panel discussion on what inclusion truly means, how to implement it in the workplace, and why fostering inclusion is crucial to successful work environments for retention purposes.
Colin Kurlicki, RBC
Mimi Sheriff Bluedrop Performance Learning and Gursha Catering
Brenda O'Reilly, YellowBelly Brewery
Ayon Shahed, Seafair Capital
12:15pm Lunch + Music Performance in partnership with Music NL
1:00pm A is for Anti-Racism
Keynote Anti-Racism: Bushra Junaid, Artist, Curator, and Illustrator
2:20pm Afternoon snack + Music Performance in partnership with Music NL
3:00 - 4:00pm
Diversity Awards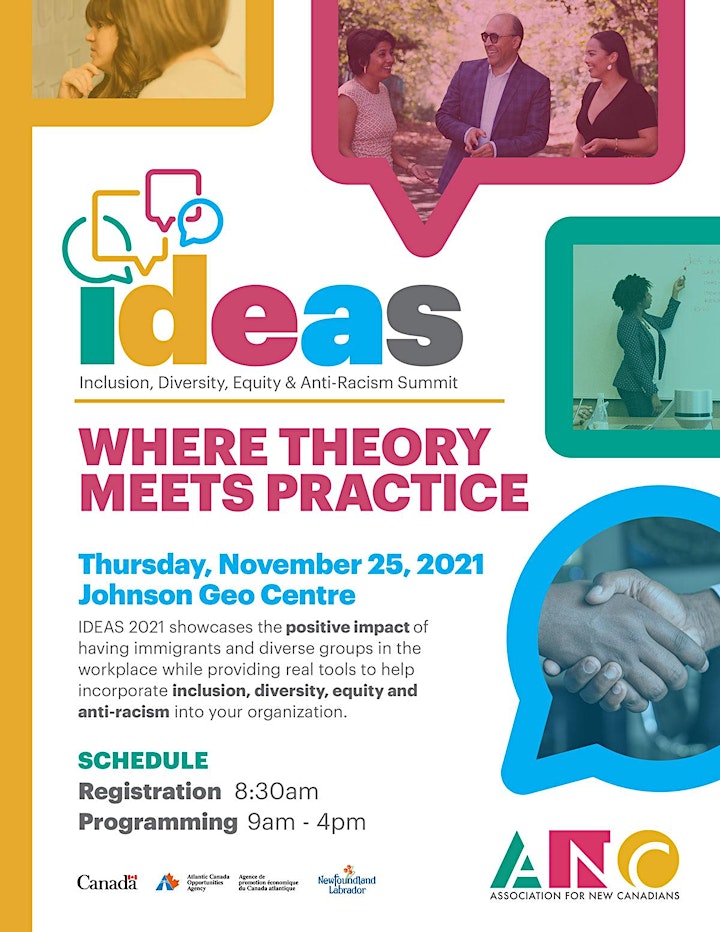 Organizer of IDEAS 2021 (Inclusion, Diversity, Equity and Anti-Racism Summit)