IDEAS 2021 showcases the positive impact of workplace diversity while providing real tools to help incorporate IDEA into your workspace
About this event
IDEAS 2021 - Inclusion, Diversity, Equity and Anti-Racism Summit: Where Theory Meets Practice is an employer focused, full-day, event with the ultimate goal of making the province of Newfoundland and Labrador's workforce a more welcoming place for immigrants, racialized people and others from underrepresented groups.
In an effort to promote successful immigrant inclusion and retention, the event will break down necessary aspects - Inclusion, Diversity, Equity and Anti-Racism - for participants to understand each of them in theory, and how they contribute to welcoming workplaces individually and intersectionality. The event will also profile real-life examples and practical tips for employers to build IDEA into their day-to-day business practice.
This event provides a forum to showcase the positive contributions and impact of immigrants, racialized people and other underrepresented groups in the labour market, while facilitating a larger conversation about the value of intercultural awareness, inclusion, and integration of diverse groups in the province.
The event will be held in-person at the Johnson Geo Centre in St. John's, NL. For live-streaming information, please visit www.ancnl.ca or contact diversity@ancnl.ca
To help provide a safe and accessible space for participants, the event will have American Sign Language (ASL) interpretations and French language interpretation.
Tentative Schedule
8:30am Registration opens
9:00am Opening Remarks
9:15am
Dr. Boluwaji Ogunyemi, Assistant Dean, Social Accountability, Memorial University's Faculty of Medicine
10am Break
10:15am
Diversity Panel: A panel discussion exploring many intersections of diversity, what it can look like, and why it is important in organizations
11:15am
Inclusion Panel: Employers and employees share perspectives on what make organizations and communities truly inclusive
12:15pm Lunch + Music Performance in partnership with Music NL
1:00pm
Keynote Anti-Racism: Bushra Junaid, Artist, Curator, and Illustrator
2:20pm Afternoon snack + Music Performance in partnership with Music NL
3:00 - 4:00pm
Diversity Awards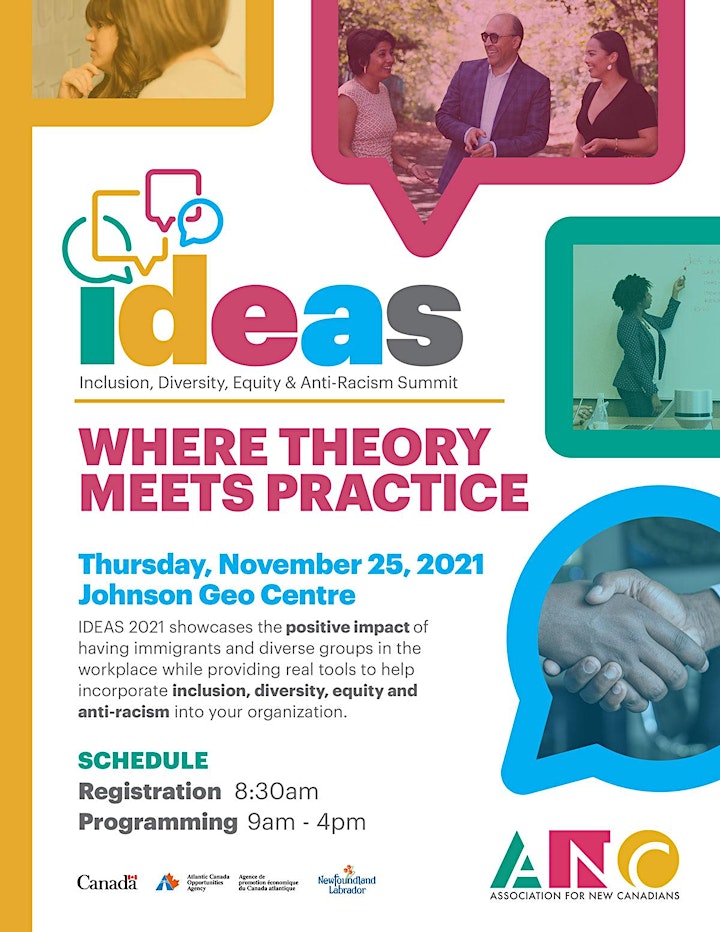 Organizer of IDEAS 2021 (Inclusion, Diversity, Equity and Anti-Racism Summit)