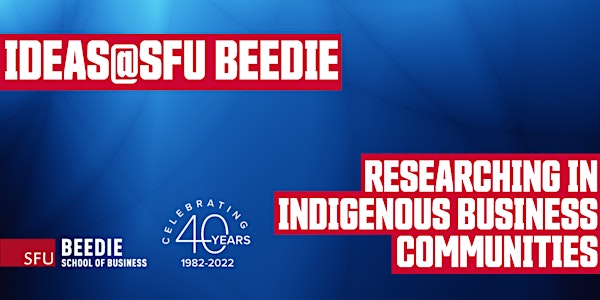 IDEAS@SFUBeedie Series: Researching in Indigenous Business Environments
Register today to attend Researching in Indigenous Business Environments.
About this event
What do we know about the interfaces between research and Indigenous business environments? How can this knowledge help us to understand the pressures on companies to better align with community values? What are the lessons to be learned from the traditional Indigenous governance practices that might help to better address these relationships?
This panel will delve into those questions and more as they discuss how businesses and business schools are under increasing pressure to be more reflective to the Indigenous communities, Indigenous knowledge and Indigenous businesses and economies where they operate.
These topics among others will be explored with opportunities for Q&A with the audience :
How Indigenous business environments are shifting.
How it relates to the global connections between Indigenous relationality.
Event Details
Date: Tuesday, June 14th, 2022
Time:
2:00 p.m. – 3:30 p.m. PDT (Vancouver)
5:00 p.m. – 6:30 p.m. EDT (Toronto, New York)
10:00 p.m. – 11:30 p.m. GMT (United Kingdom)
Wednesday June, 15th, 9:00 a.m. – 10:30 a.m. NZST (Auckland, New Zealand)
Use this Time Zone Converter to find your local time.
Event Access: This event will be hosted on Zoom. Access links will be provided 24 hours prior to the start.
Inquiries: beedie-events@sfu.ca
About the Speakers
Dr. Shelley Price
Associate Professor, Gustavson School of Business, University of Victoria
Dr. Shelley Price is an Inuk woman born in the NunatuKavut region of Labrador. Her work calls for trauma-informed and culturally humble approaches to leadership with keen interest on the intersecting injustices between race, gender, mental health, and the environment. She works with Indigenous storytelling, collective, affective, and land-based wisdom. She explores the multiplicities of meanings in the intercedes of the calls for sustainable, just, diverse, equitable, inclusive, safe, and healthy ways of being, doing, knowing, and relating to self, family, community, nature, and the cosmos. She is guided by her ancestors' teachings of love, compassion, gratitude, respect, connection, and resistance. She believes that our efforts today will honour our ancestors and protect the future generations.
Dr. Nimbus Staniland
Professor, Management, Auckland University of Technology, New Zealand
Dr. Nimbus Staniland is of Ngāti Awa, Ngāi Tūhoe descent and joined the management department as a Lecturer at the Auckland University of Technology in 2017, teaching in management, HR and Diversity. Her doctoral research involved a national study of the business school in the New Zealand tertiary sector, interviewing Māori academics, Māori commentators and key decision makers to examine the career experiences and aspirations for Māori in the academy. Her research findings point to discrepancies between the aims and intentions of the business school to enhance Māori representation and current academic structures and support systems that serve to limit Māori academic contributions and career progression. She firmly believes that New Zealand business schools have an opportunity to embrace a range of approaches to business, and to value and promote Indigenous Māori models as a feature that strengthens and distinguishes Aotearoa New Zealand from the rest of the world.
Dr. Jason Mika
Associate Professor, Māori Business, Te Raupapa Waikato Management School and Te Kotahi Research Institute
Dr. Jason Mika is a descendant of the Ngāi Tūhoe, Whakatōhea, Ngāti Awa and Ngāti Kahungunu tribes of Aotearoa New Zealand. He joined the School of Management, Massey University in Palmerston North in 2015 as a senior lecturer and codirector of Te Au Rangahau. He completed his PhD in Philosophy in 2015. His thesis: "What is the role of publicly funded enterprise assistance in Māori entrepreneurship in Aotearoa New Zealand?" examined the role of publicly funded enterprise assistance in Māori entrepreneurship in Aotearoa New Zealand. He recently joined Te Raupapa Waikato Management School and Te Kotahi Research Institute as an Associate Professor. His research interests include Indigenous entrepreneurship, management and methodologies.
Dr. François Bastien
Assistant Professor, Gustavson School of Business, University of Victoria
Dr. François Bastien is a Huron-Wendat from the Indigenous community of Wendake. He has observed incongruities between Indigenous ways of organizing and contemporary colonial models. He aims to translate Indigenous knowledge and challenge colonial assumptions. He is on the editorial board of the Academy of Management Learning and Education.
Moderator
Dr. Dara Kelly
Assistant Professor, Indigenous Business, Beedie School of Business, Simon Fraser University
Dr. Kelly is from the Leq'á:mel First Nation, part of the Stó:lõ Coast Salish. She teaches in the Executive MBA in Indigenous Business and Leadership program, and the MBA programs on Indigenous business environments.
Dr. Kelly is a recipient of the 2020 Early in Career Award for CUFA BC Distinguished Academic Awards. Her research helps fill in gaps in the literature on the economic concepts and practices of the Coast Salish and other Indigenous nations. She has presented in numerous conferences and public spaces in an effort to challenge conventional economical practices and inform positive change by drawing on knowledge of Indigenous economics. She is Co-Chair of the Indigenous Caucus at the Academy of Management and serves on the board of the Association for Economic Research of Indigenous Peoples.
About the Series
2022 marks the 40th anniversary of the creation of the Beedie School of Business. Born of SFU's radical roots, we have been "redefining radical" throughout our 40-year history. To us, that means boldly stepping-up, challenging convention, and changing course to lead in a new direction. We welcome you to watch previous sessions of the IDEAS@SFUBeedie Speaker Series showcasing the thought leadership from our world-class faculty as they investigate and discuss some of the most important issues of our time.
Watch Previous Webinars
Companies and Communities: Governance that addresses community values