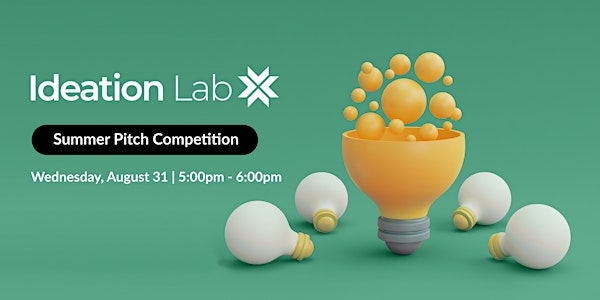 Ideation Lab Summer Pitch Competition
Join us from 5:00pm to 6:00pm on Wednesday, August 31, 2022 for the Ideation Lab Pitch Competition!
About this event
Watch 5 finalists compete for prize money and in-kind prizes, see examples of how the pitching process works, and understand what to expect from investors and interested parties. 
This event is facilitated by ICUBE at the University of Toronto Mississauga (UTM) and will be held virtually via ZOOM. Sign-up information is to follow!
Eligibility Criteria:
Member of the Summer 2022 Ideation Lab
Successfully completed 3 online modules as part of the program requirements
Attended 2 virtual and/or in-person events before the time of application
Completed Practice Pitch session, as hosted by ICUBE
Judging Criteria:
The panel of judges will be looking for the venture's:
Opportunity: A clearly identified problem and articulated and compelling value proposition
Viability and impact: Demonstrated traction, market opportunity and knowledge
Growth potential: Sustainable and scalable idea
Innovation: Intellectual property and/or strong competitive differentiation
Talent: A strong team
Communication skills: An effective and persuasive overall application and pitch presentation