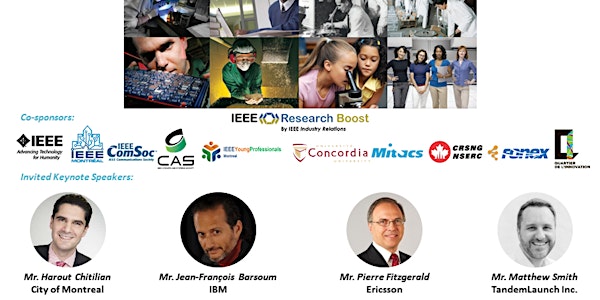 IEEE Research Boost 2016 "Give your research an industrial edge"
When and where
Location
H.767 (7th floor Hall Building), Concordia University, 1455 Boulevard de Maisonneuve O. Montreal, QC H3G 1M8 Canada
Description
Event Description
IEEE Montreal Section and IEEE Industry Relations invites you to participate in the first Research Boost event to be held in Montreal on September 28, 2016. The aim of this event is to foster collaborative research projects and networking among the industry, government and academia, as well as to present some of the top candidates in their field of expertise. It is an evening event during which invited experts and leaders from the industry, government and academia, will present some of the state-of-the-art innovations in the fields of smart cities, intelligent transportation systems and internet of things. A special session is dedicated to a number of short-presentations to offer a great opportunity for participants, Graduate Students and Postdoctoral Fellows, to present the significance of their research to the industry in front of a distinguished judging panel. All presentations should be in English, and the focus should be on the application(s), technology and industrial aspects, rather than mathematical equations.

---
Event Subjects
Smart cities
Intelligent transportation systems
Internet of things

---
Event Agenda
17:30 Registration opens and Refreshments
In the presence of Prof. Alan Shepard, President of Concordia University
18:00 Opening remarks

18:10 Session 1: Keynote invited speakers
18:10 Mr. Harout Chitilian, Vice-Chair of the Executive Committee, City of Montreal; Responsible for administrative reform, the Smart City, information technology and Youth
"Strong Partnerships Make a Smarter Montréal", or "Un Montréal Plus Intelligent Grâce à des Partenariats Plus Forts"

18:25 Mr. Jean-François Barsoum, Senior Managing Consultant, Smarter Cities, IBM, Canada
"Smart Transportation Will Forever Change How Cities Are Built: Here's Why"

18:40 Mr. Pierre Fitzgerald, Global Energy & Utilities Lead - North America, Ericsson, Canada
"Industrializing Your Innovation with the IoT Accelerator"

18:55 Networking and refreshments

19:10 Session 2: Keynote invited speaker and funding agencies
19:10 Mr. Matthew Smith, Partner and COO, TandemLaunch, Canada
"Network Error: Connection Refused – Understanding Non-technical Barriers to Technology Adoption"

19:20 Mr. Jean-Philippe Valois, MITACS, Canada

19:25 Ms. Hélène Fortier, NSERC, Canada

19:30 Session 3: Competition
19:30 Filippo Malandra, and Brunilde Sansò; Polytechnique Montréal
"Performance Analysis of Large Scale RF-mesh Systems for Smart Cities and IoT Applications"

19:35 Shoukry I. Shams, and Ahmed Kishk; Concordia University
"Textile Material Characterization for Wearable Antenna Design Based on Ridge Gap Waveguide Technology"

19:40 Mengjiao Zhao; Concordia University
"An Adaptive Wavelet Threshold Constrained Iterative Kalman Filter for Speech Enhancement"

19:45 Xinrui Pu; Concordia University
"Multi-Channel Speech Dereverberation using Linear Prediction"

19:50 Francois Ruelland, and Kamal Al-Haddad; École de Technologie Supérieure
"Electric Train Simulations Involving Nonlinear Load Flow Calculations and Parallel Computing"

19:55 Hubert Andre, and Jerome Le Ny; Polytechnique Montreal
"Privacy-Preserving Traffic Estimation"

20:00 David Buzorgnia; Independent Researcher, Montreal, Canada
"Followers Allocation in Networked Systems"

20:05 Nazli Ahmad Khan Beigi, and Mohammad Reza Soleymani; Concordia University
"Increasing Bandwidth Efficiency Under Interference Limited Conditions using Overlay Coding"

20:10 Questions and discussion: Moderated by the judging panel

20:20 Networking and refreshments

20:40 Closing remarks and award ceremony
---
Organization Committee
Prof. Fabrice Labeau, McGill Univeristy, Chair of IEEE Montreal Section
Prof. Wei-Ping Zhu, Concordia University, Graduate Program Director of the Department of Electrical and Computer Engineering
Prof. M. Omair Ahmad, Concordia University, Research Chair in Multimedia Signal Processing
Prof. Walaa Hamouda, Concordia University, Research Chair in Data Communications and Networking
Mr. Mohamed Naiel, Concordia University, Chair of IEEE Montreal Industry Relations Committee
Mr. Raphael Tana, FONEX, Vice-Chair of IEEE Montreal Industry Relations Committee

---
For further details, please visit the event page at vtools: https://meetings.vtools.ieee.org/m/40164
---