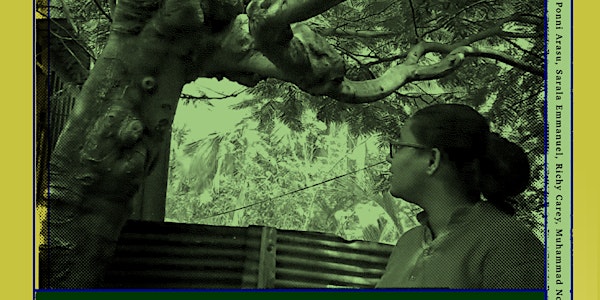 If From Every Tongue It Drips – Sharlene Bamboat
We are delighted to invite you to the next CML screening and present If From Every Tongue It Drips, by Sharlene Bamboat.
When and where
Location
3475 Rue Peel 3475 Rue Peel Montréal, QC H3A 1W7 Canada
About this event
If From Every Tongue it Drips is a film that uses the framework of quantum physics to explore the ways that personal relationships and political movements at once transcend and challenge time, space, identity and location. The film follows the lives of a couple living in Batticaloa, Sri Lanka, one of whom writes Rekhti, a form of 19th century, Urdu, queer poetry; the other, the camera operator. As their personal lives unfold on camera, the lines between rehearsal and reality, location and distance, self and other dissipate and reinforce one another. Simultaneously, through poet and camera operator's daily lives, interconnections between British colonialism, Indian nationalism and the impact of both on contemporary poetry, dance and music in South Asia is revealed.
Sharlene Bamboat (1984, Pakistan) is a moving image and installation artist based in Tio'tia:ke/Montreal. Her practice often engages with translation, history and music, uncovering sensory and fractured ways of knowing. Film Programmer Jemma Desai states of her work, "[Sharlene's] ongoing interest [lies in] the many ways that popular culture can be politicised, as well as the sensuous possibilities of its reclamation."Sharlene regularly collaborates with artists, musicians and writers to animate historical, political, legal, and pop-culture materials. Her most frequent collaborator is Alexis Mitchell. Her work has been exhibited internationally, including: International Film Festival Rotterdam (Netherlands), Art of the Real (NYC), Mantiq of the Mantis(Lahore), the Sharjah Film Platform (U.A.E.), Mercer Union (Toronto), and Henry Art Gallery (Seattle).
Filmography: Bugs & Beasts Before the Law (2019, 33 m., Canada / Germany / UK); Video Home System (2018, 20 m., Canada); Special Works School (2018, 28 m., Canada / Germany / UK); The Wind Sleeps Standing Up (2017, 12 m., Pakistan / Canada)
We will be happy to host a Q&A after the screening, with Sharlene Bamboat and Sabeena Shaikh, who translated the poems and dialogues of the film. The discussion will be moderated by Professor Pasha Khan (McGill, Department of Islamic Studies).
Sabeena Shaikh is a Ph.D. student in the Institute of Islamic Studies at McGill University. Her research interests include the study of poetry and performance in pre-modern South Asia from both a literary and historical perspective. She is presently writing a dissertation about courtesans and exploring the agency and subjectivity of these women through the texts that they authored. Sabeena teaches language classes in Urdu-Hindi as well as Bollywood dance fitness classes. In her free time, she enjoys experimenting desi-fusion recipes and taking her dog, Cilantro, on long walks.
Dr Pasha Khan is the Chair in Urdu Language and Culture and an Associate Professor at the Institute of Islamic Studies. He works on South Asian literatures, including literature in Urdu-Hindi, Persian, Punjabi, and Arabic. Professor Khan teaches courses on Sufism, the cultural history of South Asia, marvelous tales in the Islamicate world, Urdu poetry, and the history and cultures of the South Asian and Muslim diaspora, particularly in Canada.