If These Walls Could Talk @ KULTURA (Sunday Aug 10)
Description
Looking for the AUG 9TH Performance at Kensington Market? Get tickets HERE!
Toronto, meet Manila: KULTURA Filipino Arts Festival and Philippine Airlines brings you Carlos Celdran. Artscape Wychwood Barns will star as Intramuros, the walled capital city of Spanish colonial-era Philippines, in "If These Walls Could Talk". This 2-hour performance will start at 3pm. Tickets are $20 with a sliding scale for students/groups.
----------------
Carlos Celdran's If These Walls Could Talk
Sunday, August 10, 2014, 3:00 p.m.
@ Artscape Wychwood Barns 601 Christie Street
Box Office/Registration on site opens at 2:00 p.m.
General Admission $20
Group/Student Tickets $15 per ticket for a group of 10 (Limited availability)
----------------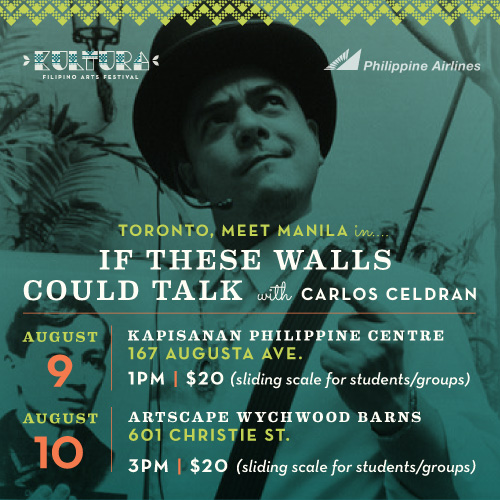 KULTURA Filipino Arts Festival and Philippine Airlines brings audiences to the capital of the Philippines, Manila without leaving Toronto, with Carlos Celdran -- a notable cultural activist and performing artist.
Celdran is making a stop in Toronto this summer before heading to New York City for his off-Broadway debut performance of his piece "Livin' La Vida Imelda", which he first mounted on stage presented by KAPISANAN in Toronto in 2011. Carlos Celdran, dubbed "The Pied Piper of Manila," comes back to perform his world-famous walking tour of Intramuros, titled If These Walls Could Talk.
Kensington Market grounds will star as Intramuros, the walled capital city of Spanish colonial-era Philippines. Celdran's walking tour is described by The Manila Bulletin as "…an exercise in historical chika (gossip), anecdotal intrigue and swashbuckling narrative." It's "the most entertaining ticket in town! …Highly recommended," states the Lonely Planet.
"Celdran's artistic, irreverent, and wildly entertaining brand of nation-building through his performative historical tours of Manila is relevant not only to the broader audience looking for a new cultural experience, but also to young Filipino-Canadians searching for their roots, and Filipino immigrants yearning for a familiar story from home," says Kapisanan Executive Director, Caroline Mangosing.
------------------
About KULTURA Filipino Arts Festival
Energized by cultural pride and a progressive outlook on the Filipino- Canadian experience, Kultura Filipino Arts Festival has captivated the broader Toronto public for a decade with its innovative programming of live performances, traditional and modern cuisine, curated interactive art installations and a bustling marketplace.
Kapisanan Philippine Centre for Arts & Culture is a multiple award-winning, charitable community organization based in Toronto. We create a safe space for Filipino-Canadian youth, both second generation and newcomers, to overcome multiple barriers that prevent them from meaningful engagement in society. At Kapisanan, youth activate their creativity to explore identity, fostering pride and self-confidence, inspiring and empowering them to realize their full potential.